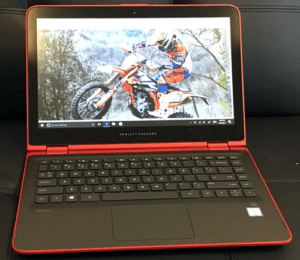 Today we will present another red laptop like Dell Inspiron 5755. But color is the only similarity. Today's object is small and compact as opposed to the big Dell. 13" HP Pavilion with 6th gen Core i3 processor represents convertible ultrabooks. Those get pricey if you want the newest Intel Quad Core and bells and whistles available in more expensive models. HP decided to make a budget version in response to the demand of the average customer and introduced an HP Pavilion 13t-S100 on a more friendly budget under $500.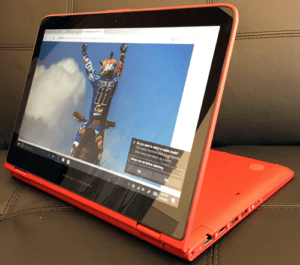 Design
Belonging to HP X360 family this laptop is equipped with a hinge that enables flipping the display 360 degrees around. That allows different modes of use like laptop, tent, theater and tablet which provide additional convenience in different situations. Not only laptop/ tablet hybrids are gaining popularity every day, just the word hybrid builds extra excitement in car business, making those models best sellers like Tesla and other electric cars.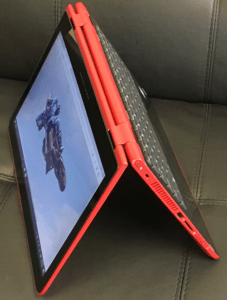 Red finish on outer case in combination with black palmrest looks clean and elegant making the laptop feel more serious. Even I didn't feel bad carrying a red laptop in public. 13 inches and little under 4 pounds is the size to go. Big enough for most applications yet small and portable to fit in any bag for a journey.
The chassis made of plastic and aluminum is thin and feels good in tablet mode which isn't the case with many other convertible laptops like HP Revolve 810 that feel bulkier and lack the integrity of 13t-S100. But it's hard to compare it with a few years old computers. New designs are sleek as the internal parts are getting smaller each year and can be packed in more compact bodies.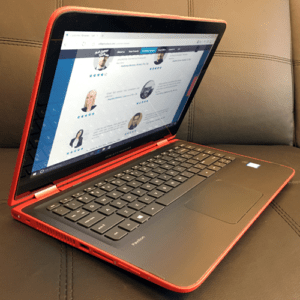 Performance
Tested HP notebook has SR2EU Pentium i3-6100U processor with sufficient power to tackle everyday tasks with ease. If you're thinking about video editing or even gaming you will need to upgrade stock 4GB of RAM to 8GB. It will give your computer needed boost. Laptop came with 500GB SATA hard drive but it can be also purchased with SSD drives that work much faster and are worth the extra cost. Performance-wise it outruns competition from the same price range.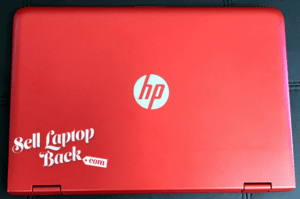 Upgradability
Upgrading the hard drive is a bit of a hassle requiring the unscrewing and pulling off the entire bottom case. The same goes for changing batteries and memory. The components are hard to access intentionally since manufacturers don't want people going inside modern laptops and computers in general. But if you have a phillips screwdriver you will be able to do that unlike with MacBooks which require more specialized tools. It all starts back in time when Steve Jobs decided to shut close his personal computers not allowing tinkerers inside.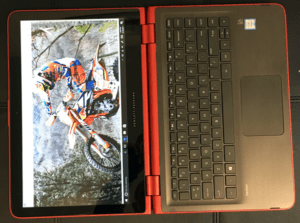 Personally we would like the time to turn around and make all computers easily upgradable and parts replaceable. Times when computer lifecycle was a few years. We were able to easily repair and upgrade our machines. And especially now that computing devices are always present. Giving laptops second lives and saving others is essentially our mission here at Sell Laptop Back. People like us save the world abundance of natural resources. We want to thank and congratulate everyone taking part in preserving and even enjoying nature.
But unfortunately keeping computers open doesn't drive the sales of new units which brings more money and is the chief aim of today's manufacturing economics.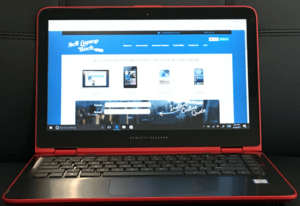 Display
1366 x 768 HD screen is bright and displays sharp image. The colors aren't as vibrant as on Dell XPS laptops but they are decent for the price you pay. Also viewing angles are ok. Touchscreen works great and fully interacts with Windows 8 and 10 that we upgraded the system to.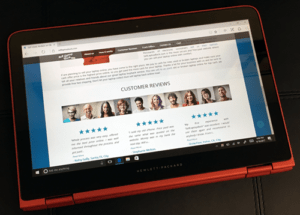 Battery
Battery life is above average. It easily stays on for about 7 hours while web browsing using WiFi connection. Long living battery is the best feature on portable devices making them truly mobile.

Conclusion
Wide selection of ports are easy accessible on both sides. Just to mention 4 USBs and standard HDMI which is a must on my personal computer. HP fits right between laptop and ultrabook categories by design and performance as well as price. It will keep you company at work, at home and everywhere you will take it with you already having your iPhone in the pocket. But this laptop offers a blend of different hand held computer devices. High quality and good speakers combined with moderate price made this laptop one of the best selling convertible laptops in 2016 in North America.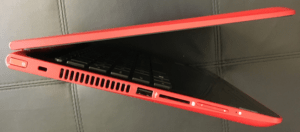 If you're even on a smaller budget don't worry. You can buy a touchscreen laptop for less, like ACER Aspire V5-122P discussed on our blog earlier this month. Still has a touchscreen and nice looking finish in a compact 11 inch laptop's body. It lacks in many departments especially when it comes to its battery life. If you like Acers you will learn to live with it. But speaking about shopping for budget laptop one cannot pass by Acer Chromebook 11, which is perfect for a daily driver to navigate through the Internet. It cost around $100, has very good battery, little weight and looks like a small white MacBook. That's also a story for Google Chrome enthusiasts which in my believe is a majority of PC users. With that being said the cheap Acer Chromebook 11 is widely available online and in retail stores.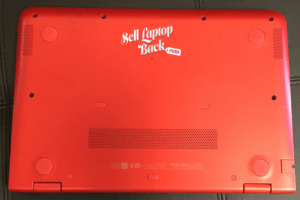 Sell HP Pavilion 13t-S100 Convertible Laptop for cash to SellLaptopBack!
DATE: 04-25-2017