Bottom line of Lenovo's new strategy is to sell as many laptops as possible and beat the competition. Yoga line aims at the hybrid sector of portable computers, connecting laptops and tablets. They are designed and manufactured with every little detail in mind.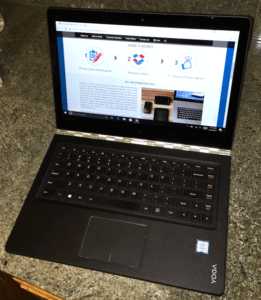 We just talked about another great Lenovo's laptop Yoga 2 14 last week. It was the previous year's Core i5 model.
Design
Today let's take a look at the beautiful laptop/tablet hybrid Lenovo Yoga 900 80UE. This model is simply excellent. First thing everybody notices when looking at the laptop is its sophisticated watchband style hinge. It looks really cool and takes little room. It allows flawless 360 movement and holds position firmly at any angle. Top and bottom case are made of magnesium and look very aesthetic. For those who don't want the Apple's 12" MacBoook laptop this could be it. It's sharp looking and with great performance.
Performance
The speed of this equipped with 6th Gen Core i7 Intel processor impresses everyone. Compared to last model powered by Core M processor this one improved by much. It gained some weight because of it but that's totally fine. The laptop is still light and super compact. Top version boasts 16GB RAM and 512GB SSD. This is plenty of storage on a super fast Samsung solid state drive. Core i7-6500 CPU and 16GB of memory allow the computer to multitask in a big way. It will handle anything you throw at it. And all that in a tiny and beautiful package. Lenovo has caught up with Apple's MacBook, Microsoft's SurfaceBook, Dell's XPS 13 and HP's Spectre X360 laptops that sell very well. Or may be even a step ahead considering all factors like performance, design and price.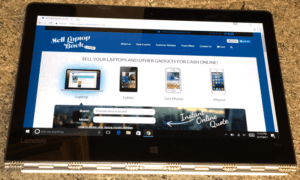 Display
3200x1800 pixels display offers stunning picture. Displayed images are sharp and colors are vibrant. Brightest isn't the best compared to competition. But for most will be more than enough. The finish is reflective but with the fancy hinge the screen can be positioned to escape direct light shining on it. 2-in-1 machines are known for laptop, theater, tent and tablet mode depending on what works best at a present moment. Touch function worked perfectly in any situation.
Keyboard
The shape of keys is easy to recognize as belonging to Lenovo family. All recent laptops from the manufacturer follow the design of ergonomically-renowned ThinkPad laptop keyboard. Most people like it. And those who hate it simply miss the original ThinkPad as claimed by Lenovo. Keyboard is well designed making typing experience excellent. Compact keyboard layout was dictated by the size of the laptop. It's disconnected and stops reacting as soon as you fold the computer into tablet mode. Finish of the palmrest makes it look and feel luxurious. Also touchpad works well as expected.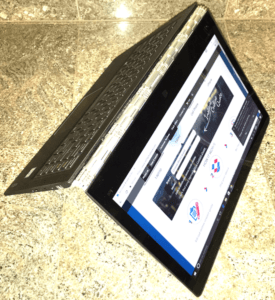 Features
There aren't too many ports but not a minimum like in MacBook's case. It has one USB 3.0 port and audio jack on the right side. Left side offers one 2.0 USB charging port, another 3.0 USB and USB Type C ports and a SD Card slot. It's missing a HDMI port which for some it the most commonly used for connecting to a big TV.
Summary
We must admit that it's hard to find cons of this computer. Lack of the HDMI could be the only one. This is a great and powerful computer packed in a small body with good battery life that will keep streaming movies for about 7 hours. Different modes (laptop or tablet) as well as overall weight and size make it ultra portable. You can't go wrong if you buy the Lenovo Yoga 900. Get a great computer and save money over other laptops that are said to be it's closest competition. You will finally get to like Windows 10 operating system while using this hybrid laptop. If you need extra money you can sell your laptop to Sell Laptop Back online and head to buy the Lenovo right away.
DATE: 02-18-2017