Today we're looking at another great touchscreen laptop from Dell. This computer presents excellent price to value ratio. The laptop boasts an Intel Core i7 6500U processor and a touch display and is priced at only $499. This is a hard to beat combination making this notebook hard to pass by when shopping for a new machine.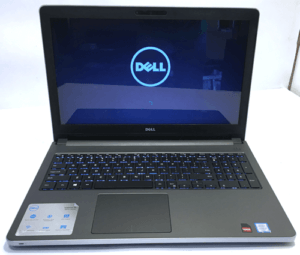 Next to expensive Dell laptops like XPS models, the company offers this affordable notebook that is an attractive pick for an office and for entertainment. Large 15 inch screen is sufficient to watch movies while traveling. But if this Dell had a 17 inch screen that would enhance its media consuming capabilities. Touch screen makes browsing Internet and hanging out on social media fun. So today we decided to take a closer look at Dell Inspiron 5559 and let us tell you what we found out.
First impression is clear. This Dell offers all the computing power you will need for everyday tasks, from work in the office, consuming media at home and keeping up with friends and news from the Internet and also casual gaming.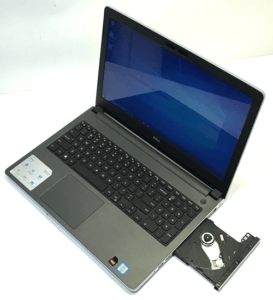 Design
Being a part of the 15-5000 series family shows right when you look at the laptop for the first time. One can easily recognize the bulky chassis and familiar design. Laptop is available in two colors, black and silver. We picked a silver one and we like the rugged finish of the lid. It is not seen on many modern laptops that are usually very smooth, whether made of plastic or metal. The Dell 5559 is of course made of plastic which helps to keep the price of the laptop on the budget.
The design is simple and aesthetic. The texture feels nice to the touch and makes fingerprints invisible, unlike on Lenovo Y700 laptop lid which is a magnet for anything that could possibly leave a mark.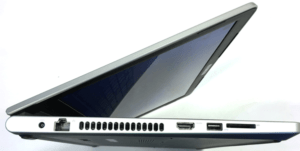 Interfaces
This laptop has a good selection of ports and an optical drive which is a nice option for those using CDs and DVDs. It all adds to the size and weight which is right at 5.29 lbs. Left side houses power socket, network port, cooling grill, full size HDMI, USB port and SD Card reader. On the right you will find audio jack, two USB ports, DVD burner and a lock. Front has a single LED power indicator and speaker grills on both corners.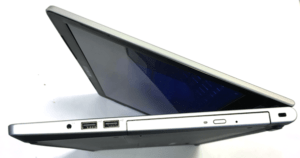 Performance
AMD Radeon R5 M335 graphic card has 4GB dedicated memory and does allow casual gaming like we mentioned at the beginning. But let's be honest, if you are after a gaming laptop better check out Dell Inspiron 15″ 5576 which in basic configuration sells for only $150 more. That laptop will allow you to play most games without lowering screen resolution setting.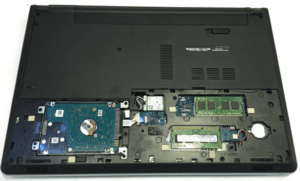 Dell 5559 is equipped with 1TB hard drive stock and upgrading to a solid state drive is the best change one can make. SSD combined with the Intel i7-6500U processor makes a significant difference when it comes to an operating speed. 2.5GHz Dual Core i7 CPU is fast and paired with stock 8GB RAM handles several applications simultaneously. RAM can be upgraded after opening the bottom cover as shown in the picture.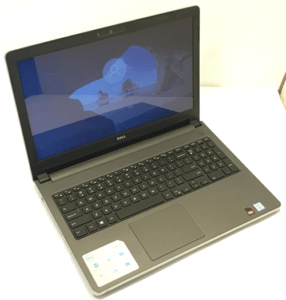 Display
Keeping things on a budget shows in the quality of the display. It is nothing fancy compared with more expensive laptops like ASUS ZenBook Pro UX501V that we reviewed earlier this month. 15.6 inch FHD panel has 1920 x 1080 pixels resolution. Viewing angles are about 45 degrees which is on the lower side of today's standards. Colors are vibrant, brightness is good and picture is sharp enough. There's nothing really to pick on, especially knowing that it's a multi-touch display.
Front bezel around the screen features real sense 3D camera and microphone for your Skype calls and social media interaction. Waves Maxxaudio speakers and a nice touch and should be considered an upgrade from other mid range laptops. They work really well producing crisp sound that's loud enough for watching movies and listening to music indoors.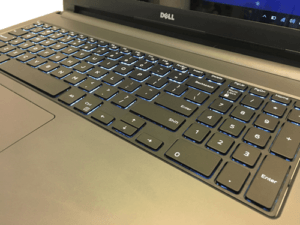 Keyboard
Dell 15 has a full size island type backlit keyboard with a numeric pad. Keys are large and well spaced making typing easy and comfortable. Soft and short traveled keys give good feedback. Keyboard has more flex than we like. But overall it's good especially considering the price tag.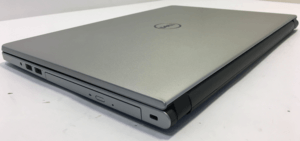 Conclusion
While you can still buy the previous model - Dell Inspiron 5558 with 5th generation Core i7 processor, the newer one doesn't cost much more. They are pretty similar considering their specs, but in our opinion buying a new laptop is a smarter choice. Of course it's not a gaming laptop and those looking for one should look elsewhere. We can close saying that Dell did a good job again defending American-made laptops on a global market especially in Asia where these laptops sell really well.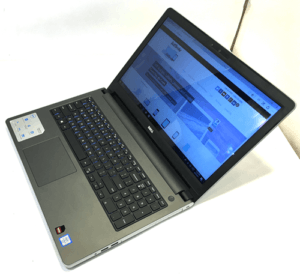 Dell Inspiron 5559 Specs and Features
All models ship with Windows 10 operating system
Some are powered by Intel Core i5 6th Gen ( Core i5-6200U ), while some come with Core i7 6th Gen ( Core i7-6500U )processors.
Basic models comes with 4GB Ram, the most expensive model comes with 16GB Ram
Storage : 1TB – 2TB
Graphics : 2GB / 4GB  AMD Radeon R5 M335 Graphics or on board  Intel HD Graphics 520
Touchscreen
Sell Dell Inspiron 5559 Touch Intel Core i7-6th Gen Laptop Online