Buying and selling laptops on the secondhand market is awesome, especially when you get to pick up little gems like this 2012 HP EliteBook 810 Revolve. It's a little dated, but it still works like a beast. It was a little funky when I first saw it with its twisting screen. I like it as an added feature of weirdness that's not seen every day.
This HP was built and designed for the workforce and businesses. Businesses used to buy these in by the dozens for their traveling employees. Very mobile students that wanted to spend a lot of money could take advantage of the 810 due to their versatility and lightweight. The Revolve 810 takes care of all types of business tasks with ease since it has 1.9GHz powering it. The reality of it was that this laptop never was designed for the student's market, but would handle their payload easily. But with starting prices of anywhere around $1,200 - $1,400 USD, you can understand why it wasn't a student deal.
Because it was such a business machine HP handled that issue by loading extra security measures. Those measures include a TPM 1.2, HP BIOS protection, Computrace, Face recognition and HP SpareKey. The notebook also comes with an NFC chip. Additional measures could be put in by IT departments in order to load or erase your computer from a different location.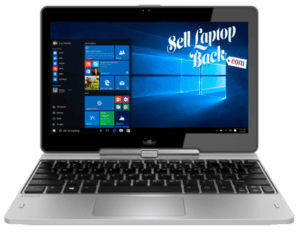 Performance
Our little Revolve 810 has a very professional processor as it runs an i5-3437U. It came equipped with a 256GB mSATA SSD for storage and also 4GB of RAM for memory. Memory is expandable up to 12GB of RAM. The original operating system was Windows® Pro 8 and supported W7 but it has since been upgraded to Windows® 10. It is fully integrated with the 10-point touchscreen capabilities that allow for easy navigation and touch input. Its resolution is set at 1366 x 768 and the color definitions are more than adequate with the 1080p panel.
Design
This HP has a sleek chassis made of magnesium and aluminum, coated in a soft-touch finish. It is not only comfortable while carrying the notebook, but when using it as well. As an added benefit, the chassis hides fingerprints. But this notebook's design provides more than just looks. The Revolve, which is 30 percent thinner and 20 percent lighter than its predecessor, the EliteBook, passed seven MIL SPEC-810G tests, including those for drops (26 drops on every corner from 30 inches), vibration, dust, altitude and temperature (140 degrees Fahrenheit to minus 20 degrees). Needless to say, this convertible is a tough little laptop that's built to last. Weighing in at 3-pounds and measuring at roughly 9" x 12" it's a versatile machine and easy to stow for air travel.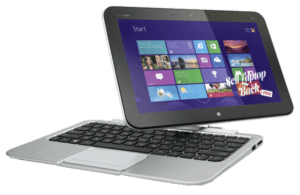 Since this doesn't run the latest Haswell processor the battery life was average at best. For a business laptop like this one it would be best to either have two chargers, one for work and one for home. If you wanted to really spend the money and expand its portability, you could have sprung for the docking station for a few hundred more dollars.
Keyboard
The keyboard is not small. But If you are used to a full-sized and spacing keyboard this laptop will take awhile to get used to. I think it's due to the very short palm rests. Because of its location, it forces you to lay your wrists higher than you might with a larger one. Though the keys are appropriately shaped and sized and also do provide a smooth typing experience. They just seemed to be a bit awkwardly spaced and they feel really light. Speaking of light the keyboard is backlit that you can set to timeout after a few seconds of no keyboard or mouse interaction.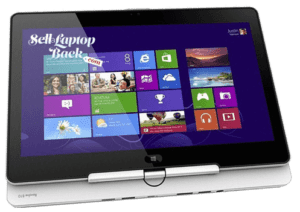 Trackpad
The trackpad is nice and smooth, but it's really small, or rather, its should say it's rather short. In order to have equivalent pointer accuracy that you'd have with a taller mouse you simply just need to setting the pointer speed up about 80%. Then it will compensate nicely for the limited finger travel space.
Display
The screen is really nice and color accurate and bright at 300 nits. The bezel is about half an inch on the sides and top. When transforming between tablet and laptop mode you have to take care that you have your auto-rotate settings correct. Or else you'll tend to get a stuck screen upside down in laptop mode. The gyroscope works a bit differently than what we see nowadays, but it works nonetheless about as fast.
Connectivity
Since it was built with people on-the-go in mind, it also has LTE coverage as well by placing a micro SIM card in next to the removable battery. That way you aren't stuck solely dependent on a wi-fi connection. You could broadcast your own.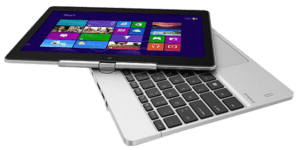 Conclusion
In conclusion, this laptop has so many small features that it scores towards the top when considering the details of this seemingly tiny machine. However, it came with a huge price tag that didn't make it very popular on the regular market. Businesses were the ones to use this machine for the most part. With its durability, SIM card connection, upgraded security features, and the ability to have a 2-in-1 laptop, if you can find this from a private seller and it's not ridiculously priced. It's still a well capable computer even despite its age.
Usually in order to buy a new computer especially a pricier one you will need to get rid of your old one. Mainly to make extra cash to put towards the new notebook and to get rid of the dust collector. So don't waste your time. Sell us your old broken laptop and go shopping for your dream machine.
DATE: 03-26-2017