ACER Aspire V5-122P-0408 Budget Touchscreen Laptop
Apr 05, 2017
Small and portable touchscreen laptops like HP Revolve 810 are offered by most computer manufacturers world wide. And there should be no surprise because convertible laptops were among the best selling computers in 2016 and they grow in popularity every year.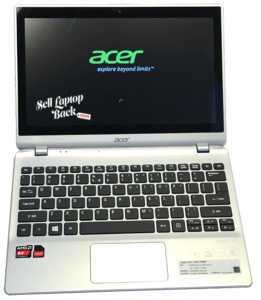 Acer offers wide variety of touchscreen models beginning with the smallest 11" Aspire V5-122P-0408. When released in 2013 this laptop was sold for $398 and now can be picked up on a second hand market for less than $150. For a touchscreen laptop that's a steal.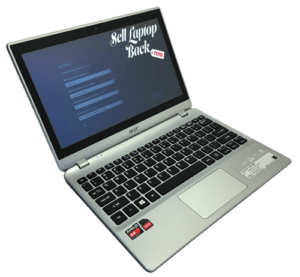 Performance
The little Acer sports AMD Radeon HD 8210 and AMD A4 1250 processor that clocks at 1GHz. That is less than impressive and it takes about 30 seconds to fully boot up to Windows. Another version is offered with an AMD A6 CPU that does a little better. It's still a Dual Core processor though. Both laptops came originally with 4GB RAM memory that can be easily upgraded. At least the 2GB module that is not soldered to the motherboard.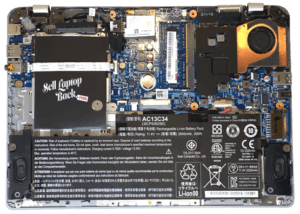 The Aspire V5-122P-0408 has 500GB SATA 5400 RPM hard drive that could also be replaced with a bigger drive for more storage or an SSD if needed more speed. All the upgrades would add up to the price but with used laptop that could be fairly cheap. Accessing both RAM memory stick and hard drive require unscrewing and taking off the bottom case. Anyhow stock CPU and RAM configuration is sufficient for everyday home use like browsing the web and streaming movies. It also allows playing less demanding games. But for gaming upgraded memory would be a plus.

Display
Selling point of this laptop is 11.6-inch 10-point multi-touch display with native resolution 1366 x 768 pixels. LED panel shows crisp picture with vibrant colors. The Cons are bad viewing angles and glossy finish that is reflective lowering visibility in bright environment. Overall the display is not as good as on newer laptops. After reviewing LENOVO Yoga 700-11ISK laptop that sells last week we would like all laptop screens to be that nice. Touch display on the Acer works flawlessly adding to laptop's functionality.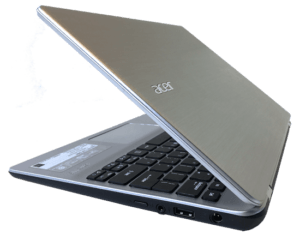 Design
Chassis is made entirely from plastic but the finish of the lid imitates brushed aluminum and honestly looks pretty good. Keyboard is nicely integrated into palm-rest and feels quite comfortable while typing. Touchpad is right in the middle and we didn't find any flaws in the way it works. Acer claimed edge to edge display design which compared with Dell XPS laptop models isn't really true. There is a thin silver bezel around the black one under the glass and there is the actual screen inside. Not quite edge to edge as we would call it. But for a budget laptop not bad at all. The case even today looks slick and aesthetic.

One thing that bothered us was the location of the power button on the right side of the case like on Dell Inspiron 11 3147 laptop. It is hard to feel with a finger and usually requires tilting the laptop and looking at the side. Otherwise everything else is where it should be and will make your work easy without any getting used to the laptop time. V5-122P weighs 3 pounds which is more than Acer Chromebook 11 designed with ultra portability in mind. Yet it's light and very compact and ready to go with you anywhere you like easily fitting in any space in your backpack. Acer offers all basic ports like 2 USBs, HDMI port and SD Card slot. It's equipped with 720 webcam that is OK for Skype calls but offers mediocre quality. Laptop connects with internet and external devices wirelessly through WiFi or bluetooth.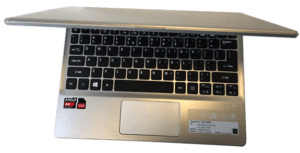 Summary
For those looking for a cheaper Windows based laptop with a Touch Screen Acer V5-122P-0408 can be the right choice. The only real downside of this model is battery life. Under 4 hours is really short. We've tested laptop hybrids like LENOVO Yoga 900 that can last easily 10 hours on a charge and we are disappointed with the Acer. If you're thinking about taking the laptop with you and using on the go don't forget to pack your charger. You will need it sooner than one would expect.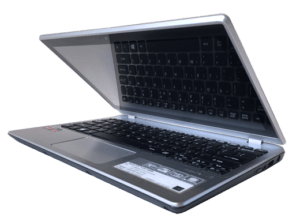 Besides short battery life we enjoyed the Acer remembering that we could buy one now for about $150. So if you spend just that much don't expect it to be a MacBook and you will be fine. You can easily get the cash from selling your used computer or other gadget. Check out our post about places to sell laptops and broken electronics to learn more.