Best Selling Convertible Laptops In 2016
Mar 08, 2017
Can't decide between buying a laptop or a tablet? Buy a 2-in-1 and have both. The 2016 Dell Inspiron 13 7000 has it all. It has good enough performance of an up-to-date laptop and offers convenience of a tablet. Since hybrids are quite popular, Dell had to step up their game to make an impact on laptop's market. They equipped the laptop with Intel Core i5 6200U processor, 8GB of RAM and 128GB SSD. The laptop sells well to wide audience, since it's light and solid built, and costs a little over $700 brand new. It's a great choice for school, work and entertainment. Considering its compact size it's very portable and works well on the go. Previous model Dell Inspiron 13 7000 2015 edition just got better.
Design
First noticeable change from 2015 Dell Inspiron 13 7000 is the brushed aluminum finish of the case. It looks more expensive and feels better and weighs less than it's predecessor. It's not as light as the LENOVO Yoga 900 hybrid that we reviewed earlier. But lower price justifies lesser quality.
Overall the laptop's design is very elegant. 360-degree hinge allows flexible use in different modes like laptop, tablet, tent and in between. The hinge is firm and operates smoothly. For the tablet Dell offers a built in stylus.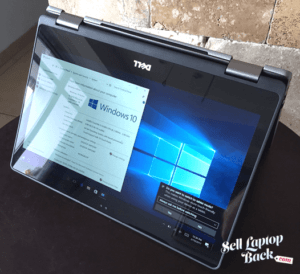 Display
13.3" FHD IPS screen has 1920 x 1080 pixels resolution. It produces awesome image quality and has excellent viewing angles. Bright picture and warm colors complete very good impression. Touchscreen enhances interaction with the computer when creating content and watching movies. It also works well with Windows 10 operating system that the computer is originally sold with.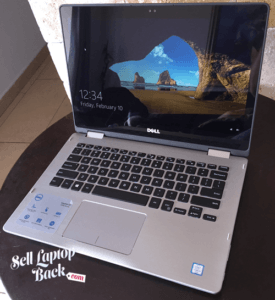 Keyboard and Touchpad
Typing experience isn't the best on short traveled keys designed for tablet functionality as well. Tablet mode is usually a drawback for keyboard's design that becomes the bottom case. With that in mind we rate the keyboard a little above standard for this specific type of computer. The buttonless touchpad is also pretty standard giving good feel to each click.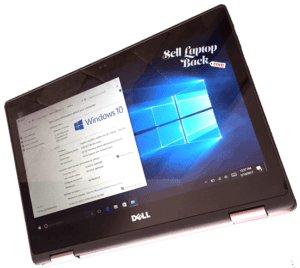 Performance
6th generation Intel Core i5 6200U processor with integrated Intel HD Graphics 520 and combined with 8GB of RAM are sufficient to handle gaming at lower detail setting, video editing and multitasking. 128GB solid state drive is fast but with limited storage capacity. Plan either upgrading to a bigger size SSD or using a cloud. With fast wireless network connection the second may be your best option. In summary provided performance is good.
The cooling elements are designed to not to let the notebook overheat and are almost noiseless. Although when keeping it running on your laptop for a few hours you may feel some hotter spots on the bottom case. The battery does a decent job lasting up to 8,5 hours on a slightly lower screen brightness setting.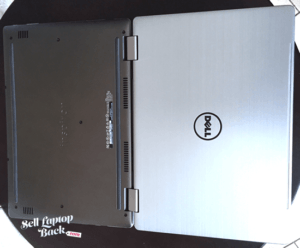 Dell Inspiron 13 7000 specs:
6th Generation Intel i5-6200u dual-core processor

8 GB DDR4 RAM

128GB SATA Solid State Drive

Intel HD Graphics 520

13.3-inch HD (1920 x 1080) IPS touchscreen

WiFi AC/Bluetooth 4.0

42WHr internal battery

Microsoft Windows 10 Home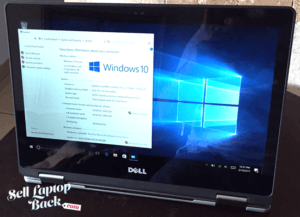 If you don't want to spend a lot more money to buy the best Dell's laptops XPS 13 or 15 series this one will be your best bet. This convertible laptop is great all around machine and will suit your everyday needs as good as higher end models. Sell Laptop Back will help you sell your used laptops even if they don't work. Over the years we perfected our solution for everybody looking to sell laptops, tablets and smartphones for a fair market value and without a hassle.