TOP 5 Sure Ways To Sell Laptops For Best Price In 2019!
Mar 01, 2020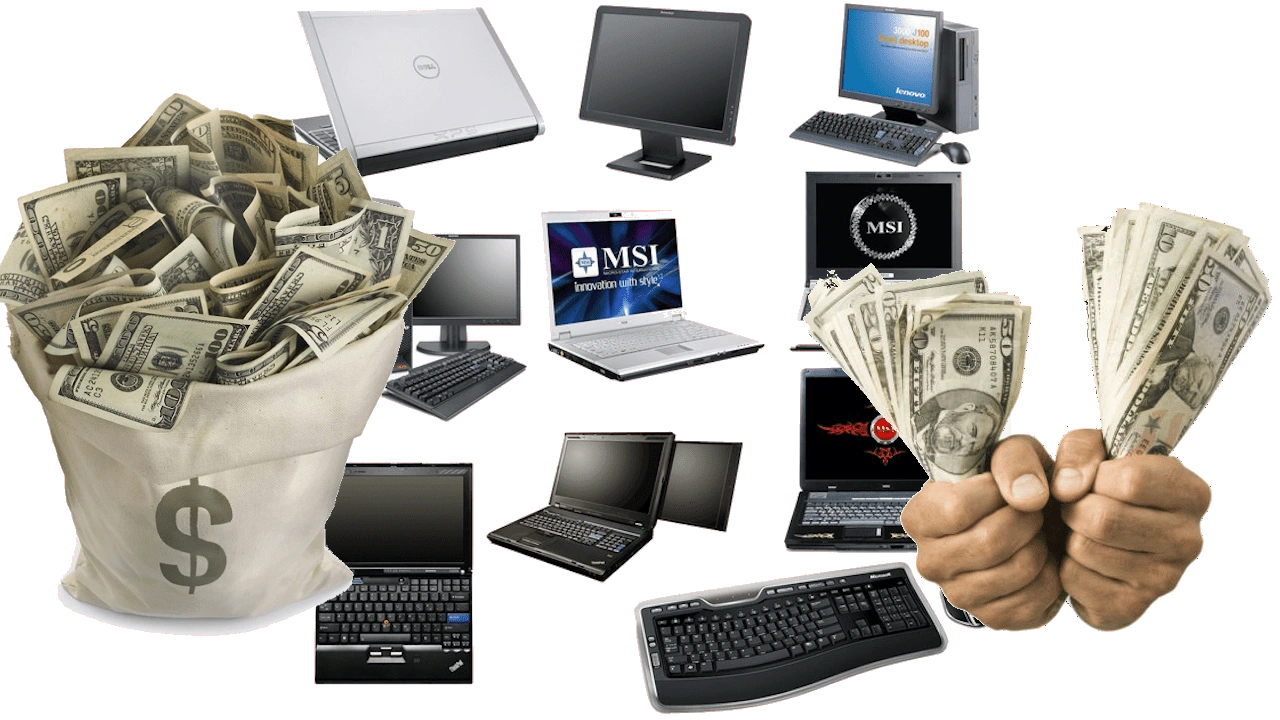 Do you have old  laptops collecting dust on the shelf? Everyone has! Turn them into extra cash.
How do you make a brand-new laptop cheaper?
Sell your old one! Learn here how to sell laptops for best price in 2019 !
Whatever old laptop you have, you may sell it online with your own efforts or using specialized web platform where you can get a quote and ship your laptop for free to get fast money. Each method has positive and negative features. Also, you can join in the trade programs. The prices offered with trade-in programs are usually a little lower than what you could sell electronics directly for by listing them on Craigslist or eBay. It's much better than going to a pawn shop or hosting a yard sale. Read on to see the best places to sell laptops for best price in 2019.
Ways we used to sell laptop before
If you decided to sell your used laptop, you need to prepare it for selling. What does that mean? That means making sure you have everything that goes with it (manuals, charge cords, that sort of thing) and that you've evaluated any problems it might have, such as a broken keyboard, inoperative USB ports, and so forth. You'll need to clearly disclose any damages or defects present in the machine when you advertise it for sale because these things will affect how much you can expect for your device.
Places to sell laptops in 2019
1. Amazon Trade-In
This popular program works a lot like its retail section. Simply, you search for an item, enter any necessary details (storage, screen size and so on) and then select the device's condition. Amazon will you an offer, and if you accept it, provide a shipping label for the item. Once you ship the item, Amazon will inspect it to ensure the item matches your original description. If it all checks out, your Amazon account is credited with an Amazon Gift card for the offer amount. Don't forget that a Gift card is the only payment method in this case. Your gift card is usually available within two business days after Amazon receives the shipment. Your money is locked to your Amazon account and you can spend them for a new device right there.
2. Apple Laptop Trade-In
Go to Apple's online service! Luckily, Apple will accept smartphones, tablets, computers, watches and "other" Apple devices. If the company doesn't have a trade-in offer for your device, it will ask if you'd like to recycle it free of charge. Visit the site or an Apple retail store to begin the trade-in process. Using Apple to trade in old devices and get some extra cash makes sense if you want to stay within the Apple ecosystem, or if you're making the jump from Android. Again, you can't use the Apple Store gift card to buy a Samsung or Lenovo device, for example.
3. Best Buy  Laptop Trade-In
Are you ready to wait for 10 days? Join in! Getting a quote from Best Buy is as simple as picking a product category, manufacturer, model and condition. Once you've filled out a special form, the tool will estimate the value of the electronic items and give you an instant quote. The offer amount, if you choose to accept it, will only be awarded as a Best Buy gift card. What are you going to do with it? You can either ship the item to Best Buy using a prepaid label, or find a local store that accepts in-store trade-ins. Both variants are good!
4. eBay Laptop Instant Selling
Again, you get an eBay Instant Voucher, not cash. eBay's Instant Selling platform monitors eBay phone listings, and if a device is in good working condition, will offer to instantly purchase the phone and give person selling it an eBay Instant Voucher. That's marketing speak for an eBay gift card. The system works this way: you send in the device to a company that's partnered with eBay, where it will be inspected and verified that the device is as described. If there's a discrepancy, your eBay payment method will be charged the difference. Of course, the hidden stone here is that you may spend the gift card on eBay only, instead of another service.
5. Flipsy
It's a good idea to shop around and check which service will offer you the most money for your device. That's where Flipsy comes in. Flipsy doesn't accept trade-ins itself, but instead, it curates other services that do and provides you with a list of services and the amount each one is currently offering for your device. You can then quickly glance over the list and select the service or website that offers the most for your device.
More Ways to Sell Laptops for Best Price
You can find many more platforms to trade your old laptop. Online services that purchase old laptops, obviously would only accept laptops in a certain condition. You may easily check this. And of course, if you don't have time and desire to trade your laptop on your own, you can try to find a company that will take your old gadget for money in any condition. It doesn't matter that the laptop has a broken screen, keyboard with missing keys, and other damages. YOU CAN SELL LAPTOP IN ANY CONDITION FOR REAL MONEY! The price of the laptop will depend on the condition, brand and model's current market value as well as market value of laptop's individual parts. As a rule, you can get the best price during the quote process, and if the condition described accurately and the model number is described correctly, the quote value becomes a market order and the trade takes place.
Here's the thing, though – that laptop could be recouping some of the cost of your new machine instead. So why not sell it? In our days, you (the seller) have a choice. You can trade your gadget from auction and spend the payment voucher for a new gadget. Or, you can deal with a professional company and trade your laptop for cash in a couple of days. It's up to you!