TOP 5 Best Laptops Under $500
Aug 29, 2019
DELL, HP or LENOVO  TOP 5 Best Laptops under $500 by Consumer Reports 2019
Are you on a tight budget? You don't have to save your money at every step to buy a new laptop. You can find a machine at a low price. So you're in the market or go online to buy a new laptop? Here is an advice: Don't let big tech companies with multimillion dollar marketing campaigns fool you into thinking you have to pay about $1 000 for a high quality laptop. Actually, the best laptops under $500 by consumer reports 2019 is real. You can actually get a brand new machine for less than half of that primary price. And it's not about poorly made, subpar notebooks that run slower than your smartphone after the latest iOS update or out-of-date models.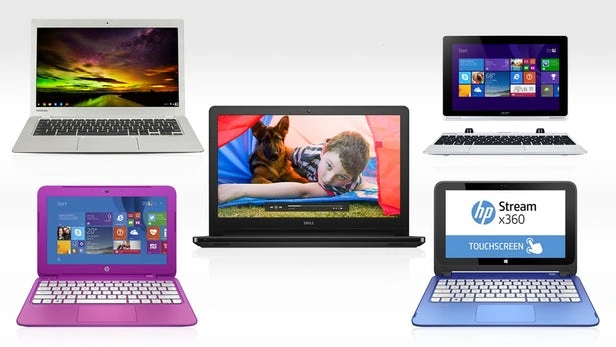 It's about cheap laptops that are high-tech and responsive, helping you do the things that matter most, like writing, browsing the internet, storing files, and even gaming. So, are you ready to get some knowledge that will help you to be a more informed about hot to get the best laptops under $500? Let us introduce you to TOP 5 of the best cheap laptops for you to choose from, starting with the most affordable. All of these come in at less than $500.
1. Cheap&Compact
Dell Inspiron 11 3000
You can buy it for $200 ONLY!
This laptop by Dell is a small, compact machine, created for everyday use. What do you get for your money? It's about 100GB of cloud storage and 2 gigs of RAM, which stands for random access memory. The typical price is about $200. But you can find a used version for $100-150. The Inspiron 11 3000 comes in different colors. If you like exotic Bali Blue or Alpine White or Grey, you can easily find such a model. All three colors comes a glossy finish that can be a bit of a fingerprint magnet, but it should be easy just to wipe it off.
2. Cheap & Lightweight
HP Stream 11n
You can buy it for $155 ONLY!
This HP laptop can surprise you a lot. It is engineered without a fan, so it will be quiet and comfortable to use on your lap while you enjoy 10 hours of battery life. This HP model has many similar features with the Inspiron 11, like similar specs and even similar color options. But HP version includes a few noteworthy features, especially for students.
What a good new! HP comes with a 1-year subscription to Office 365, which includes Excel, Word, and PowerPoint. You also get 60 free monthly Skype minutes and 1 terabyte of cloud storage. The laptop gives you access to all your files and no matter where you are. Does it have a fingerprint reader? No. Does it have a backlit keyboard? No. But you don't really need those anyway. The laptop has a built-in web camera, a thoughtfully designed body, and more cloud storage. There is a pleasant bonus: the 14-inch screen is just $10 more.
3. Cheap & Designed
Lenovo IdeaPad 120s
You can buy it for $157 ONLY!
Are you surprised with such a low price? This cheap laptop by Lenovo is a stylish modern laptop computer, combining high performance processing power with a sleek exterior. It comes in two sophisticated colors and has an HD anti-glare screen. Speaking about the colors, you can pick Denim Blue and Mineral Grey. Speaking about the HD screen, you can experience true visual clarity and enjoy the high quality picture when you stream all your favorite shows, whether inside or outdoors. What Lenovo did was take the ubiquitous cheap laptop that runs Windows 10 and put their much needed stamp approval on it.
4. Cheap & Premium
Samsung Chromebook 3
You can buy it for $230!
You will be surprised that this stylish Chromebook comes with such a low price. It runs using Google's Chrome OS operating system rather than Windows 10 or MacOS. Important information: these notebooks are designed to be used while connected to the internet since most of your documents and apps will live in the cloud. Of course, the Chromebook by Samsung is not the most premium laptop in the world, but it is a pretty good notebook that will get the job done. The top of the body is made from a textured plastic that is better at hiding fingerprints than the Inspiron 11 which is mentioned above. What about the color? It is mostly charcoal grey, but the bright colors also available.
5. Cheap&Flex
Lenovo Flex 11
You can buy it for $250!
What a surprise! This laptop by Lenovo is a typical Chromebook! It has a 360-degree hinge and you can position this Lenovo model to fit all your tasks. Welcome to laptop computing with a twist. Tent Mode can serve you well when you're in tight quarters like a crowded airplane. Tablet Mode is great when you just want to scroll or watch a video. Watch Mode is the perfect setting for your Netflix and Chill, and you can adjust it to the traditional Laptop Mode when it's time to get some work done.
Now it's time to speak about under-the-hood. On the spec front, the Intel Celeron N3350 processor delivers speeds of up to 1.1GHz, which means you can enjoy pretty comfortable web browsing speeds, and the 32 GB hard drive means you can store your files and programs securely. According to the consumers' reports, this Lenovo Chromebook offers just enough features to make it a strong bargain over other budget laptops. Do you agree this?
Of course, you may agree or not with this TOP 5 best laptops under $500 2019. Everyone has a favorite laptop brand and the most preferable size, color, price. You are free to choose a machine that suits you the most.
All the information you've just read are specially given to you to take it into account when you are going to buy a new laptop for work or leisure. These models are not the ideal for gaming or programming, but they are good enough for work, study, entertainments.