Sell Or Recycle Your Laptop?
Nov 26, 2018
If you want to say Good Bye to your old laptops you face the dilemma: Sell or recycle? You should know that there are many different ways to make away with your old laptop computers. What are they?
Give away or sell your old working computer.
Harvest unusable parts to repair your current model.
Break up the old broken computer for resale or reuse.
Recover gold and other precious metals and recycle it.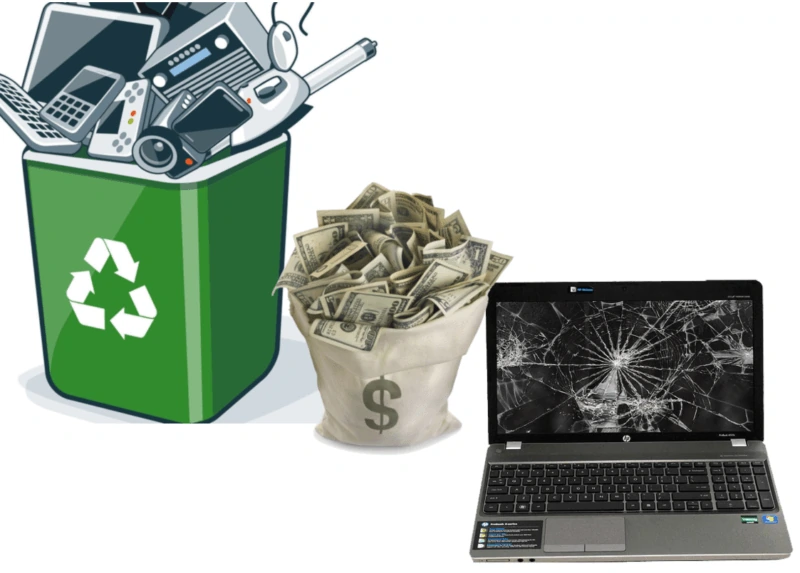 If It's Still Working, Give Away or Sell Your Old Computer

Your first option is to see whether your old PC or laptop can be used by anyone else in its present state. You can either try to sell it or you can be generous and give it away for nothing to someone who needs it. In some countries, donating your computer to a charitable cause is an allowable tax deduction.

If you are willing to donate, check out your local goodwill and charity stores. Some of them will accept it if it is working order. There are many different variants! Ask at your local school or community center to see if they know anyone who can make use of your old computer. Many poorer families would be pleased to receive a gift of a working machine.

Selling your computer might sound an attractive option, but older Apple Macs, PCs and laptops have very low resale values. In fact, some companies will charge you a fee for them to take the machine off your hands. You can try selling it online either through an auction site like eBay or direct to a second-hand dealer. Be prepared to be offered a low price, often less than US $50. Nevertheless, there are many nuances about it. Such important components as correct and attractive listing, nice pictures, bonuses, documents play an important role in laptop trades. Think about it, what is more important for you, safety deal or high price?

Take Away Usable Parts to Repair or Reuse

If you are technically minded and enjoy doing DIY, use the working parts of your Mac, laptop or PC to repair old machines or adapt your current one. Computers as much as laptops consist of many parts and some are more useful than others. In summary the components are as follows.

Battery pack
Power supply cable and connector
RAM memory sticks
Hard drive
Optical drive
CMOS battery
Display monitor
CPU

Nevertheless, everything depends on the age and model of your machine. If you have the right skills, it is possible to make budget upgrades with recycled parts. An example is given in the video below where an old display monitor is adapted to provide a DIY portable secondary screen for a laptop.

Break Up Your Broken Computer for Parts

You now know your old computer has virtually no resale value, but you lack the skills for a project like the one in the video above. You can still harvest the parts for other creative projects. Some suggestions are:

Make a digital picture frame.
Harvest your broken machines for usable parts, then build a new one bit by bit.
Buy some cheap RAM, format and upgrade your old PC.
Sell the usable parts online as spares on eBay or a similar website.
It's not difficult to make something new from your old computer. Just be creative or use online instructions.

Be Environmentally Responsible and Recycle Old Electronics

It's veri important to recycle your laptop properly. The recommendation is to find the recycling center in your town or use online buyback recycle centers to properly dispose your old laptop computers.
Recycle your laptop!
We believe it is important to stop laptops being sent to landfills, it makes much more sense to recycle your laptop and get some cash back! There are companies that make recycling your laptop easy and fast. Just let them know some details about the laptop you want to sell and they will give you an instant online quote. If you accept the quote then the company will organize collection of your laptop (completely free) and send you the money instantly - it's really that simple!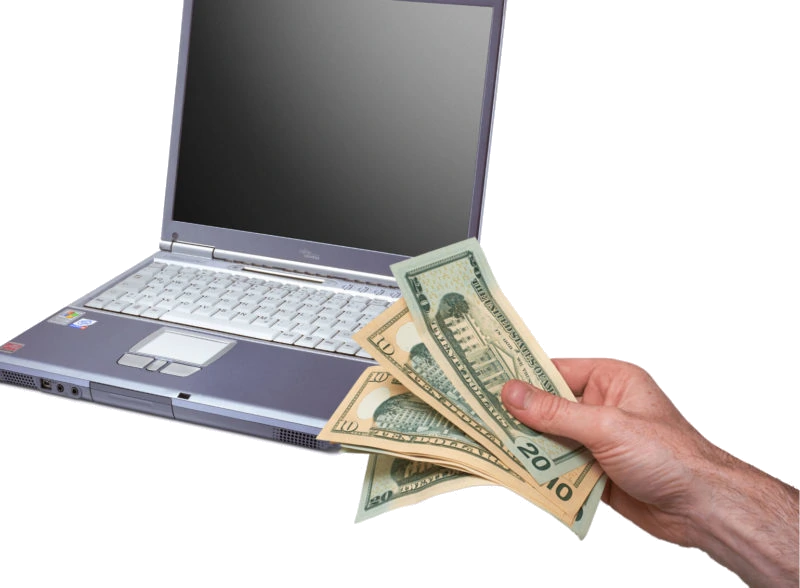 NOTE
The hard drive is a record of all the data on your computer. Over a lifetime of use, you have input a large amount of confidential information; credit card numbers, bank accounts, and website log-ins and passwords. You must destroy this record before you sell or give away your machine. Otherwise criminals could make use of your personal details.
"This private information can remain on the hard drive even if it has been "erased" or reformatted. We recommend the following steps to ensure that your data is completely erased.

You must destroy the magnetic platter inside the hard drive.

Remove the main circuit board from the enclosure.

Open the enclosure using a screwdriver and hammer to prize it open.

Wear eye protection and repeatedly strike the hard drive on various sides until it starts to open. When open, coax out the round silver platter from inside.

Ding, dent, and scratch this platter. You don't need to swing like an axe murderer, many lighter taps with both the claw and peen of the hammer should destroy the hard drive sufficiently.

When done, box up all components and turn them in at your local electronics recycling center."
Also, there are many companies that are ready to recycle your laptop for you. If you live in the US, check out the website of the Environmental Protection Agency for your nearest electronic recycling facility. Please don't just put your unwanted PCs and laptops into general household waste for disposal to landfill. In the UK, recycling is carried out by local councils. Not all civic amenity (waste disposal) sites accept electronic waste, so check with your local authority to find the nearest appropriate facility.
Sell or Recycle? That is a question!
Welcome to our company. We buy used, new and even broken laptops. If you want to sell your laptop then use our simple online form and receive an instant quote. We will collect your laptop for free and send you the money using a payment method of your choice. Also we are ready to deal to recycle your old non-working equipment for you!