Want to sell a broken tablet for cash? No problem! We buy broken tablets in any condition.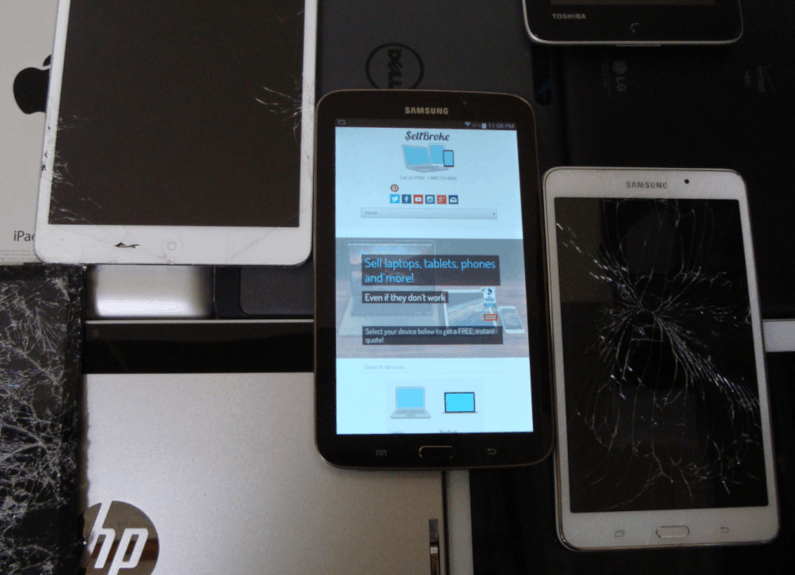 Few things to know before selling broken tablets.
Estimating how much to sell broken tablet for may be difficult. Most places undervalue broken tablets offering very little, explaining that broken tablets are useless.

Therefore finding a reputable and professional place to sell tablets is essential to success. The right place will offer you an accurate price reflecting true value of a broken tablet.

In most case one or two components fail in a tablet computer making the rest repairable or at lease salvageable. Professional recyclers are able to extract and reuse good parts from a broken tablet. In that case the value is based on the value of good parts remaining in the broken tablet.

Sell Broke offers the best value and most convenient service to sell your broken tablet.

Getting a quote and submitting order to sell tablet is quick and easy.
Ready to sell us your broken tablet? Find your tablet model below and select condition.
Here's why SellBroke is the best company to sell broken tablets to:
We offer to by most brands and models of tablets.

Our offers for broken tablets are higher than anywhere else.

It your tablet is broken beyond repairability we will at least offer you the value of salvageable parts.

We always strive to satisfy our customers and make them come back. We make customers for life creating best solution to recycle electronics online.

Broken tablet repair is usually pricier than selling it and buying a new one. Not to mention time and effort spent in the process of fixing the device.

Our online quotes are very precise for broken tablets.

The process of selling broken tablets to us is safe and easy. We perfected the routine offer the years of our operation as an electronic recycles.
Selling broken tablet to us will save you time and money.
Our service is fast and we take seriously and value your time. You will receive a prepaid shipping label instantly after submitting an order on our website. You can ship your broken tablet right away. Payment for your device will be the same day as we receive it. There is no foster way to turn your broken laptop into case.

Our free shipping means that you don't have to spend money on the transaction. We pay to send your broken tablet to us. Simply find a box to pack the tablet and place our label on it.

Most importantly, our desire to recycle electronics is driven by our mission to protect the natural environment by reducing e-waste. We make sure that all of the usable parts from broken tablets and electronics that we process will be reused. Any other parts are recycled in the best possible manner.

Being a family-owned company, we pride ourselves on providing honest business practices.

We always strive to satisfy our customers and make them come back. We make customers for life creating best solution to recycle electronics online.

We focus on customer satisfaction. Since the beginning of our operation, we maintain great customer ratings with companies such as the BBB and are available via social media services. Sell us your broken tablet today and help us build a better future of online trading.
Ready to sell us a broken tablet? Search your tablet model and get a quote now.