Acer Aspire VX15 $800 Gaming Laptop
Jul 18, 2017
Acer has come out with a pretty cool little laptop here for $800, the VR15. The cool thing about it is that it's a new entry-level gaming laptop. So, this is a really good performer for not that much money. It starts at $800, then the $1,000 configures gives you, in our opinion, the best bang for your buck. The cheaper units will have less RAM, smaller storage, and a weaker CPU, but the big difference is the weaker video card.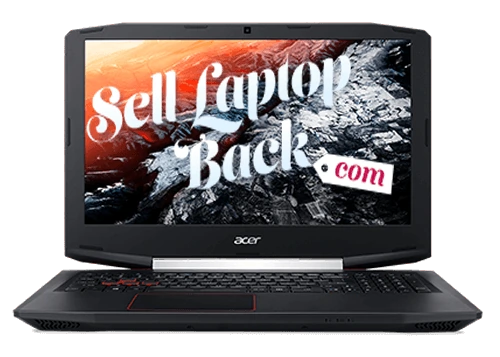 We wouldn't really call it a competition to Lenovo Legion Y720 laptop w with GTX 1060 graphics Lenovo Legion Y720 laptop w with GTX 1060 graphics but the price tag is substantially lower.
So, the performance improvement of the 1050 Ti, over the regular 1050 is quite noticeable. It's about 20-15% better, so if you can afford it, go for the Ti. With the 1050 Ti, you can easily break 100 frames per second on light games on light games like Overwatch at 1080p on high settings. Ultra graphics will still average at around 60fps. Something heavier like Dishonored 2, you're looking at around 45fps at 1080p on high. You can still break 60fps if you drop the graphics to medium. So, it's only really heavy stuff, like Witcher 3, that will bog this card down a bit. It's still playable but you'll need to drop your graphics quality or lower the resolution. All of these are done on the 1050 Ti. If you can only pick up the 1050, those numbers will be about 20-25% less.

Now, with good performance like this, you need to have a good cooling system, and to get inside to take a look, there are a bunch of screws and you have to pop off the bottom panel with a little force. Inside, you're looking at two heat pipes and two fans. They are quiet at idle and are relatively quiet on load as well, but they do a good job cooling the components. There's no real thermal throttling going on, even when running benchmarks and the temps of the keyboard area are comfortable when playing games.
Getting back to what's inside, we get two memory slots, so you can go up to 32GB of DDR4 and you have your m.2 SSD. The stock one is an SATA drive. You also have space for a 2.5-inch drive. There's no cabling or mounting hardware included, but Acer will supply these to you if you want.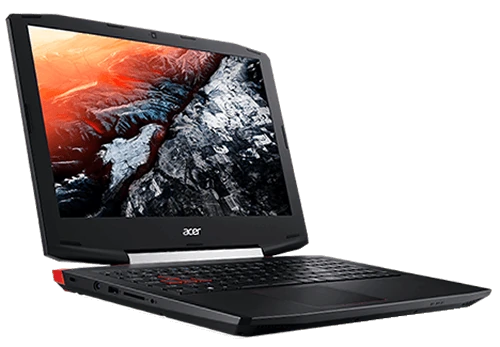 The battery is 52-watt hours. With average use, we got about 4 hours of battery life, with the screen at about 250 nits. Watching videos, it will break 5 hours. So, the battery life isn't long enough to bring this device out for the day without a charger, and it takes about 2 hours to recharge.
As for the external aesthetics, it has a similar design language to the Predator laptops that Acer makes, with the red angular exhaust. We didn't love the design, it's definitely more game oriented, but it's not too gaudy. It weighs in at 5.5-pounds, 15.3" x 10.4" and only .82-inches thick.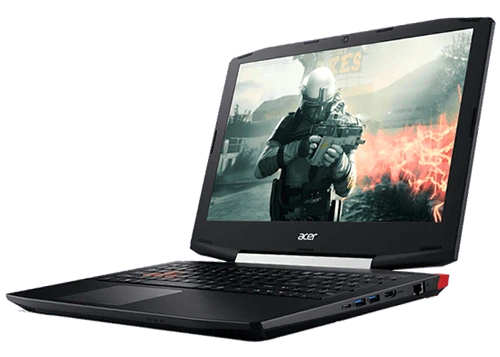 The build quality is decent. Acer isn't really known for building laptops with a ton of aluminum or premium materials. But they did a respectable job with the plastics. The bottom panel is plastic, the keyboard area is plastic but very rigid. They have a bunch of reinforcements inside. The hinge design is ok. It looks cool, it helps give the laptop a cleaner design. But from experience, laptops that use this kind of central hinge system tend to wear out quicker and the hinges can start to get floppy after a couple of years. It seems solid but only time will tell in the long term.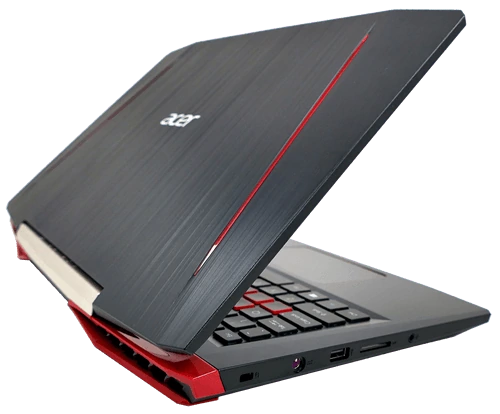 The top panel has red accents. It also has a brushed looking texture, like a faux brushed metal that Acer does, it looks much nicer than the material really is. The screen flex isn't too bad, you have to torque it quite a bit to get it to flex.
So, the display, when you're not twisting it around, is decent for the price. Keep in mind this is a budget oriented laptop, it's a 1080p non-touch screen with an IPS panel. Some units have a Tn panel as well, so keep an eye out if you have a preference. You should try and get the IPS panel if you can. It gets reasonably bright and has a good contrast. The color gamut for RGB is 62% and for Adobe RGB it is 46% and the viewing angles aren't that great either. For a gaming laptop, this does the trick.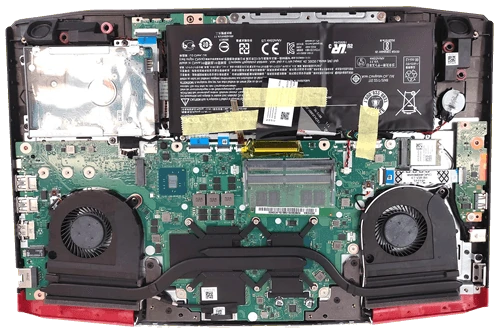 The keyboard is pretty average for this price point. The layout isn't bad once you get used to the number pad on the right. The keystrokes have a good amount of travel and there's red backlighting. Unfortunately, the keys do feel a little mushy.
The trackpad is better. It' probably above average, but it feels a little cheap. It has really smooth plastic that isn't lovable and the button mechanics aren't the best. There's just not a lot of travel when you click down, but it's a solid trackpad because it uses Windows' precision drivers which have very accurate tracking and gesture detection.

The speakers in terms of their actual audio quality are not amazing. They are laptop speakers that don't have much bass. They face the user and they're loud enough to rely on without having to use headphones.
The port selection here is average at best. It comes with an HDMI, three USB-As, one USB-C that doesn't support Thunderbolt 3. and SD card slot and an audio jack. Some may not like that a majority of the ports are on the right-side because if you have a lot plugged in it can impede mouse travel.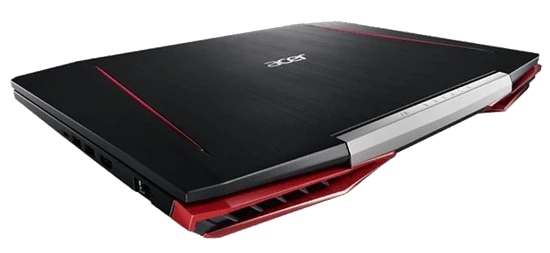 Ok, so the VX15 is Acer's first entry into that whole $800 gaming laptop market, and with this one you're getting a full plastic build with decent build quality, the screen is an IPS panel, not great for an IPS panel, but it gets the job done. You're not going to get much better at this price point. The keyboard is not bad, but it could have been a bit more responsive. The trackpad is accurate and doesn't skip around. Inside, the Kaby Lake CPUs and the GTX 1050 or 1050 Ti deliver a really solid performance for the price, but try and spring for the Ti is you can.
The RAM and the storage are all pretty easy to access and are readily upgradable. The battery is a 52-watt hour and it comes up a little short with realistic use. It's a good laptop for the money. You're getting incredible performance for the current titles at 1080p. That should tide you over for a t least a good couple of years of solid gaming performance at 1080p, 60fps.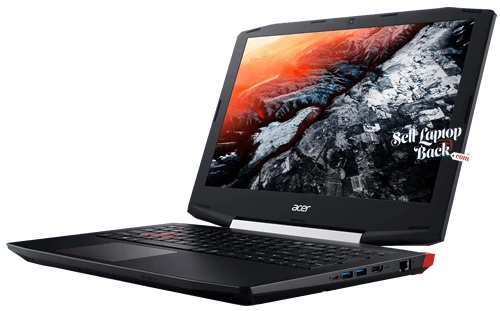 If you need to recycle for cash your old Acer Gaming laptop, consider SellLaptopBack.com
Sell Acer Aspire VX 15 Series GTX 1050 Intel Core i5 7th gen Laptop
online!