Asus FX53 15.6" Gaming Laptop
May 31, 2017
Today we are going to talk about the Asus FX53. This is a 15.6-inch gaming laptop with a Core i7-7700HQ, a NVIDIA GTX 1050, 8GB of RAM and a 256GB SSD. Right now you can pick this laptop up for about $800, which makes it a mid-range gaming PC.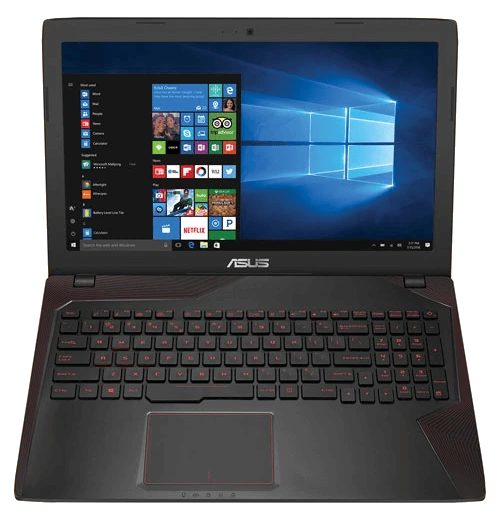 Build:
The top lid of this laptop is constructed of aluminum and looks really nice. Since it is made of aluminum and it's black it tends to pick up fingerprints like nobody's business. It also has a ton of flex in the middle of the lid. It looks like Asus had to cut a couple corners in order to keep it at a decent price. However, you should take note of the flex and keep in your mind that the screen may be vulnerable during transport.
The interior is made of plastic and it has design cues that make it look a bit more like Asus' more expensive Republic of Gamers laptops.
The bottom plate looks like it has a super easy access to the inside of the machine, but once you look at it closely you'll realize that you must take off all the screws on the back lid to gain access. This is better to know upfront so you don't damage it if you try to get in. Once you're inside you'll find a standard 2.5" drive bay, an m.2 SSD, RAM with 2 slots for expanding up to 32GB, of course, you have your Intel Dual Band Wireless-AC 7265, one single fan for cooling and way up at the top is the battery pack.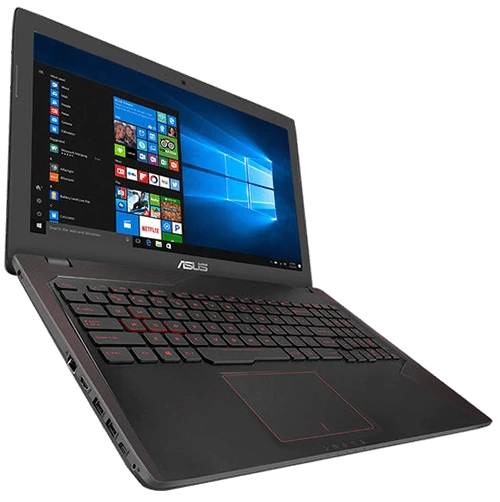 I/O
Taking a look at the ports you will find along the left side you have the charging port, exhaust fan, ethernet RJ45, a full-sized HDMI port, two USB 3.0, also a USB Type-C, and the audio jack combo. Turning it around to the right side there you'll find the DVD drive, Kensington Security Lock Slot and a USB 2.0. On the front of the device, you'll see the SD card reader, the speaker grills, and some status indicator LEDs.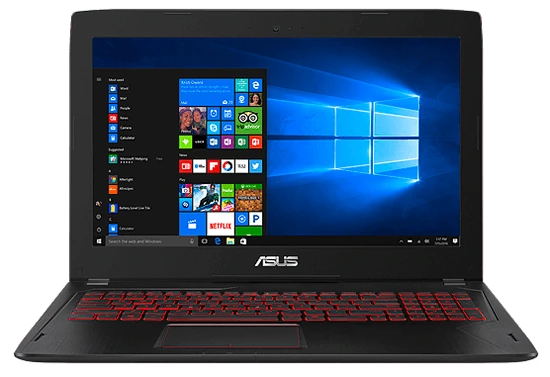 Display:
This laptop features a full 15.6-inch full-HD TN panel. Due to its price point, the color accuracy on this laptop is quite poor. The sRGB coverage scored at 59% and the Adobe RGB scored only 44%. You might notice that the side-to-side viewing angles for the TN panel actually aren't too bad, however, the vertical angles are really poor.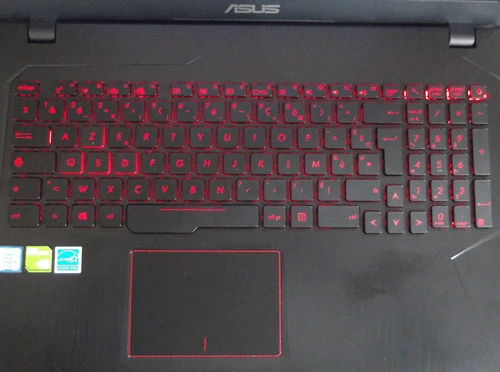 Keyboard and Trackpad:
The full-size keyboard is laid out nicely, has good key travel and is pretty comfortable to type on. Since it is a gaming laptop you get the standout red WASD keys. There is also a ton of flex in the middle of the keyboard that makes it feel pretty weak.
The trackpad felt pretty good and best of all it's using Windows Precision drives so all of the multi-finger gestures, scrolling and navigation super smooth.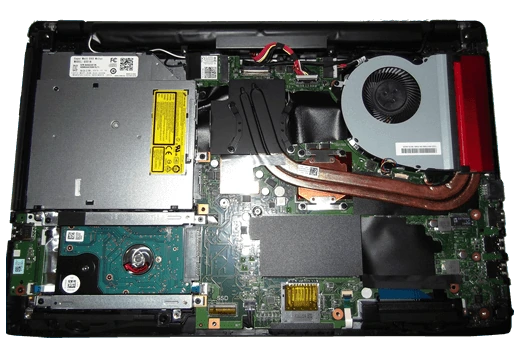 Performance:
The processor used is an Intel Core i7-7700HQ. It's a Kaby Lake processor so it's pretty fast the single-core scored at 4,238 while the multi-core scored a 12,656.
This laptop features a NVIDIA GTX 1050 graphics card with 2GB of GDDR5. This GPU is very capable and you can play many of today's high-end games at 1920 x 1080p on medium to high settings. You should get about 85-105 frames per second using medium settings. The GTX 1050 with 2GB of RAM offers a really good and consistent performance. During gameplay, the fan keeps the internal components pretty cool and it also is not very loud at only about 47-50 decibels.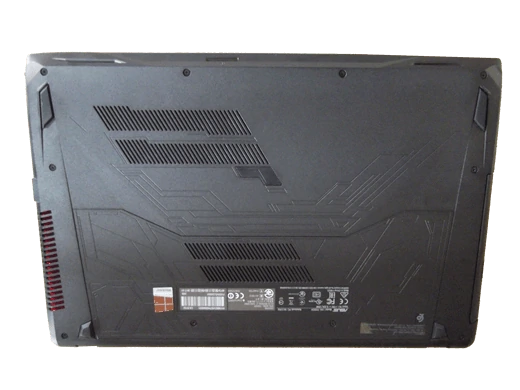 Battery:
Because Asus decided to keep an optical drive and due to their size they take up a lot of room. Consequently, the battery life suffers because Asus wasn't able to put a bigger battery in. It was either a bigger battery or an optical drive and they chose the optical drive. With the screen brightness set to 50%, you can expect about 2-2.5 hours of. If you want to game on it, you should drop that time to around 60 minutes, more or less.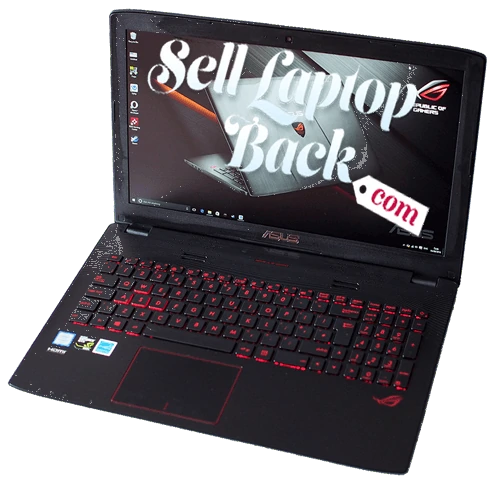 Audio:
The two bottom-facing drives up front have decent sound quality and do get pretty loud; however, the low end is really lacking, but what do you expect from a decent priced gaming laptop?
If you need to make room and get rig of your old computer Sell Laptop Back will make it quick and easy. Check our quote for your laptop on our website today!
Sell Asus FX53 15.6 Intel Core i7 7th gen CPU Laptop