From time to time we like to find the off-brand gaming laptops for you just to keep things interesting. Recently we received a 15.6-inch PowerSpec 1510 made by Micro Center. Let's get into the nitty-gritty.
Specs
You are going to get a Core i7-7700HQ, 16GB of DDR4 RAM, a 250GB NVME SSD, a GTX 1070 with 8GB of GDDR5 and this goes for roughly $1,500 USD. The top lid is made out of aluminum with a PowerSpec logo in the middle. The build quality does have a bit of flex in the middle of the lid so it's not something that you want to stack too many things on top of. Keep it safe and keep it free of stacked clutter.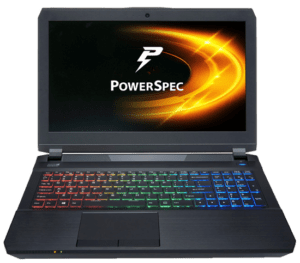 Build Quality
The interior has an aluminum palm rest but the keyboard deck is a plastic polymer. As far as the flex goes on the keyboard deck, you won't find much if any at all. It really is rock solid in that aspect. Where it's not so solid is on the bottom plate. Here they just give you a plastic panel and call it good.
You can access the internal fairly easily by removing a dozen or so screws. Once you're inside you'll see a three fan system, a 60 watt-hour battery pack, a Samsung 960 Evo NVME SSD, 1TB HHD at 5400 RPM. For future upgrades, you have two m.2 slots and you can also upgrade your RAM from 16GB to 32GB.
Connectivity
You'll be able to connect to this laptop in a few different ways if need be. You have a mini DisplayPort 1.3, two USB-C 3.1 ports, and two more USB 3.0 ports. But that's not all. There is also the audio and microphone jacks, a line-out jack, a SIM card slot, a 6-in-1 memory card reader, another USB 3.0, and the Ethernet port. Finally, on the backside, there is another mini DisplayPort, a full-sized HDMI, and finally your power adapter port. When it comes to hooking up, you should be squared away. On the front of the unit is where you'll find all of your LED indicators for power on, sleep, caps lock and the like.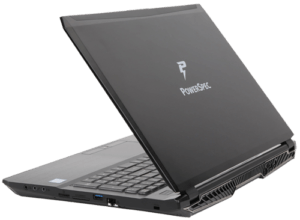 Display
This laptop features a 15.6-inch full-HD IPS display with G-sync. The color accuracy is great measuring sRGB and Adobe RGB at 93% and 72% respectively. It can hold its own in the light with 307 nits. It has some really good viewing angles, but you will have to get past the huge bezels that it's rocking.
Trackpad
The trackpad is a synthetic material that feels ok and has some pretty good precision. Two-finger scrolling and multi-touch gestures were accurate. The two physical click buttons provide a good snappy feedback and located between them is the fingerprint scanner.
Keyboard
The keyboard has a great layout and best of all it feels very fast to type on. The key response is awesome. The RG B backlit keyboard on this laptop is also pretty cool and you get multiple brightness options of low, medium, and high. As far as zone settings on the keyboard go, you only get partial zones and you can't individualize the keys. Not a deal breaker at all.
The fingerprint reader offers a quick and secure way to login to Windows Hello and the accuracy of this reader so far has been on-point. I order to activate the reader you must swipe across it.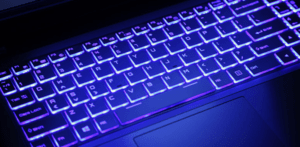 Speakers
There are two top-facing speakers powered by Onkyo, and their sound quality is pretty good; however, they don't seem to broadcast very loud. They were only yielding about 60-70 decibels.
Performance
Featuring a GTX 1070 with 8Gb of GDDR5 RAM is one of this laptop's best things about it. The performance from it is stunning. Games like Battlefield 4 you will get an average of about 150-160 fps at 1920 x 1080p on ultra settings. For non-optimized games, you should get an average of 60-70 fps at 1080p on medium settings. On games like Overwatch 3 on epic settings, I was getting about 90-100 fps. Overall, this GTX really delivers what you're paying for
During some intense gaming sessions, you can expect your GTX to run up the heat on you. Temp readings between 44-51 degrees Celsius were quite common on this device.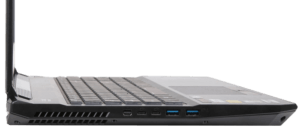 However, on the flip-side, the GPU temps were pretty cool at around 75-80C. You can overclock but this will drive your temps up super high, super fast. You can use your fan control center to adjust your fan speeds. No matter their settings they consistently ran whisper quiet.
Battery
If you want more than 2.5 - 3.5 hours of battery time you will have to look elsewhere. This 4-cell 60 watt-hour battery on medium screen brightness just doesn't deliver much, and if you want to game on your battery, you're more in the picture of about 80 mins before you're in need of a wall charger.
Conclusion
For $1,500 you are getting some incredible value for your money spent. The quad-core Kaby Lake i7-7700HQ is powerful and when you combine that with the GTX 1070 you're going to get some impressive gaming horsepower for today's top-end games.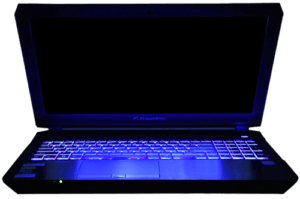 PowerSpec 1510 Specs
| | |
| --- | --- |
| Bluetooth | Bluetooth 4.1 |
| Brand | PowerSpec |
| CPU | Intel Core i7-7700HQ CPU |
| Card Slots | SIM, SD memory reader |
| Company Website | powerspec.com |
| Display Size | 15.6 |
| Graphics Card | NVIDIA GeForce GTX 1070 / 8GB |
| Hard Drive Size | 256GB SSD |
| Hard Drive Type | NVMe SSD |
| Highest Available Resolution | 1920 x 1080 |
| Operating System | Windows 10 Home |
| Ports (excluding USB) | Optical audio, Ethernet, USB 3.1, HDMI, USB Type-C, Headphone, Lock Slot, Microphone, Mini DisplayPort |
| RAM | 16GB |
| Secondary Hard Drive Size | 1TB |
| Secondary Hard Drive Speed | 7,200 RPM |
| Secondary Hard Drive Type | HDD |
| Size | 15.3 x 10.8 x 1.3 inches |
| Touchpad Size | 4.2 x 2.4 inches |
| USB Ports | 5 |
| Video Memory | 8GB |
| Warranty/Support | 1 year |
| Weight | 6.5 pounds |
| Wi-Fi | 802.11 a/b/g/n/ac |
| Wi-Fi Model | Intel Dual Band Wireless-AC 8265 |
DATE: 11-08-2017