Are you looking for a way to replace your laptop but are not looking for a full-fledged desktop? You may have asked yourself a few times if this is even possible. Well, truth be told, it is possible, but probably for a very niche type of performance. Let's take a look at the Intel Skull Canyon NUC and see what it can do for you. All you need is a monitor, a mouse, and a keyboard and you're good to go.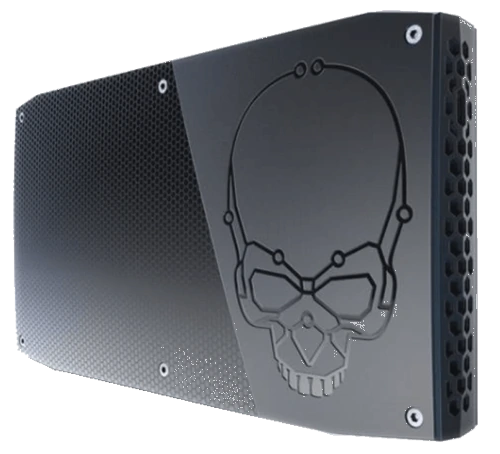 Interfaces
Aside from emails and regular use, if you edit videos or play games, then the port selection is probably very important to you. With this, you will get the most important ones like an SD card reader for video files, four USB 3.0 ports, display output, including an HDMI 2, and a Thunderbolt 3. This is super important because you will probably want an external GPU.
On the inside, there are two RAM slots. There are 32GB of DDR4, and there are two m.2 drive slots. Having two drives is really clutch for editing in Premier, and then not having to use external ones is even better.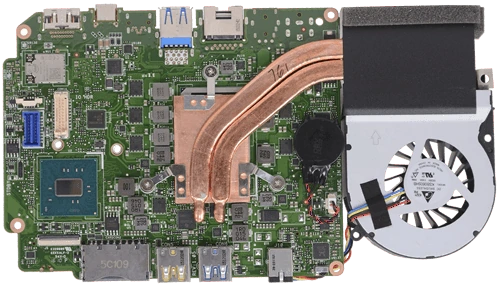 CPU and internal GPU
The CPU and the internal GPU cannot be upgraded; those are soldered on. It's running an Intel Core i7-6770HQ 2.6 GHz (3.6 GHz turbo). Graphics chip is an Intel Iris Pro 580 350 MHz (950 MHz turbo). This thing is a powerful computer in a tiny package that measures 8.3" x 4.6" x 1.1".
Performance wise for regular work stuff, it just burns through it. But the big question is how would it handle 4k video edits. I was pleasantly surprised at how well it performed. Importing the footage, working with the footage, everything in terms of the editing process was fast, as long as you have two drives installed, but renders were slow. The integrated GPU isn't an NVIDIA chip, so it has no CUDA cores. It ends up using OpenCL to render. The solution is the Razer Core.

Razer Core
With a GTX 1080 in there, when you plug this up, it flies. You'll get similar render times to a quad-core desktop with the GTX 1080. So something like a 5-minute video would render in about 10-12 minutes with the Razer Core, or an hour without it.
In this particular case, I leave the Razer Core at home, and if needed I can edit videos while on the go. And when I get home I can render the videos a lot faster with the Razer Core.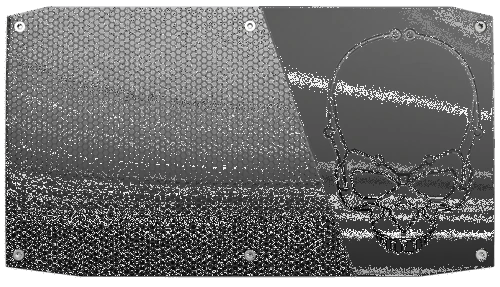 Gaming
Also, gaming is not bad. Obviously, with the Razer Core and a GTX 1080, it will crush games. But even if you want to use the integrated chip, the Iris Pro 580 is capable of pushing out decent frame rates. It's not for hardcore gaming, but if you want to play stuff like Overwatch or Starcraft, you can get some playable frame rates even at 1080p. I wouldn't recommend competing at tournaments with this, but for the occasional casual gaming, this runs reasonably well.
Fan noise on idle is audible but relatively quiet. Fan noise under load is much louder. But because it's a tiny PC, you can position it further away from you, unlike a laptop. There was no thermal throttling even when editing videos or gaming. Yet running certain benchmarks it does get hot enough to throttle.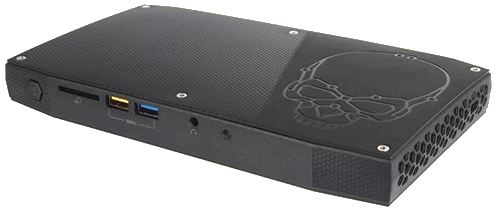 Design
It also comes with a backplate so you can mount it behind monitors. It also has a second top cover without the skull if you want to bring it down a notch an be more subtle. I like the skull myself, so it stays. It uses a 120 watt AC adapter, and it's not huge or anything, but if you want to carry this CPU back and forth say between work and home, it's a pain in the neck. So, the easy fix here is to just grab a $30 second AC adapter and keep one in each location. Then you only have the small CPU to carry around.

Pricing
The thing I want to mention is the pricing. It retails for about $600 USD as a barebones kit, so you need to put in your own storage and memory. It's not the cheapest computer out there by any means since it's a barebones kit, but you're getting a really unique form factor and for the $150 price premium that you're paying for this, it's not a bad value.
Overall, I really like the Skull Canyon NUC. It is not something I can recommend to everyone who's looking for a laptop replacement. Mainly because the usage scenario is really specific, but I'm sure there are certain people out there who can totally fit this into their workflow.

Do you have an old, broken Skull Canyon Computer? Sell Intel Skull Canyon NUC Computer to SellLaptopBack online!
DATE: 01-11-2018