HP Spectre X360 15t Laptop With Kaby Lake 2017
Jul 08, 2017
2017 has been putting together some really nice laptops so far this year. And you add the HP Spectre x360 15T to that list as well. It is one of HP's top of the line models that features a Core i7-7500U, a NVIDIA GeForce 940 MX with 2GB of GDDR5, a 15.6-inch Ultra HD IPS panel, 16GB of RAM with a 512GB SSD. The retail price for this laptop is $1,499 USD, and believe it or not, this convertible laptop sells very well.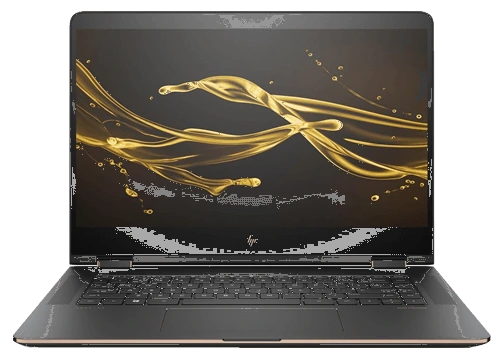 Exterior
The exterior to this laptop is gorgeous with a truffle brown finish with a new HP logo that's made entirely of aluminum so it also feels like a premium laptop. Thanks to the all aluminum construction, the build of this laptop are very good. There is hardly any keyboard flex or display flex.
The 512GB PCIe NVME SSD is super fast, everything is quick and responsive, from the boot-up times to the system response. The read and write times clocked in at 2,819 MB/s and 1,459 MB/s respectively.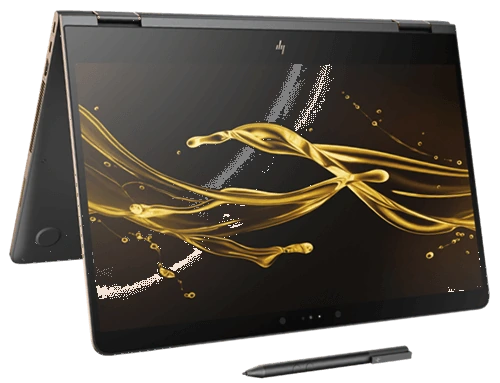 Interior
The interior is a thing of beauty. You have the same truffle brown aluminum finish with some gold trim accents around the edges. It's very thin and light, measuring 0.7-inches thick and 4.42-pounds. For such a thin laptop you get some good port selection as well. There is a USB-type A, headset/microphone jack combo, power button, vent and as SD card reader, full-size HDMI, a USB type-C and lastly a Thunderbolt 3/USB type-C port.
There are four different modes that you can use this laptop. First, is the standard laptop mode, followed by the stand mode, tent mode, and of course the table mode. As usual though with tablet mode, a 15.6-inch display is too big for this to feel good in your hands. It's just too big and heavy, but it's there if you need it. The hinges are super tight so it'll take two hands to open this up.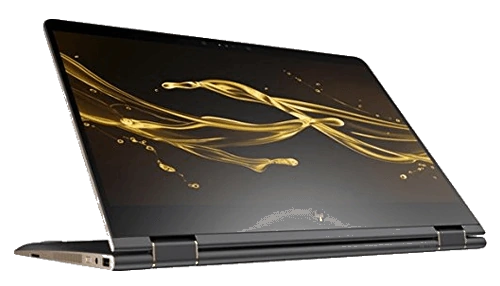 Display
This laptop features a 15.6-inch, 4k IPS touchscreen panel that looks absolutely awesome. It has an RGB rating of 94% and reading of Adobe RGB 73%. At 341 nits the overall brightness is pretty decent too. The touchscreen is highly responsive to scrolling and multi-touch gestures. The one drawback about the panel is the extreme amount of reflection it casts.
The new HP Spectre now includes HP's Active Stylus Pen that's used for the notepad and sketch pad apps. Of course, you can also find many apps and the online store that use the pen. It's very accurate and quick and doesn't need very much down pressure to register on the screen, this should bring more competition to the Microsoft Surface laptop.
There's no fingerprint reader in this laptop, but with Windows Hello, you can log-in very easily.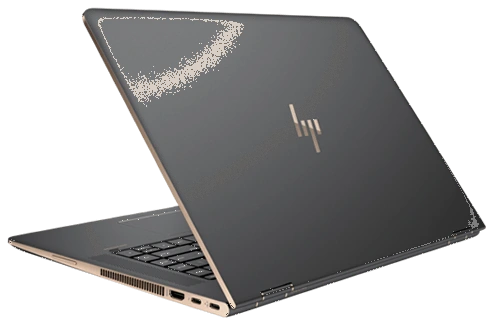 Keyboard and trackpad
The glass based trackpad is powered by Synaptics and overall does a pretty good job, two-finger scrolling and multi-touch were very responsive. The keyboard is well spaced and the feedback and key travel are very nice considering how thin this laptop is. However, for me, the backspace and home keys are way too close together which results in missed keystrokes and resets the cursor to the beginning. Though we are not quite sure why, but HP only gives us two options with the backlit keyboard: on or off.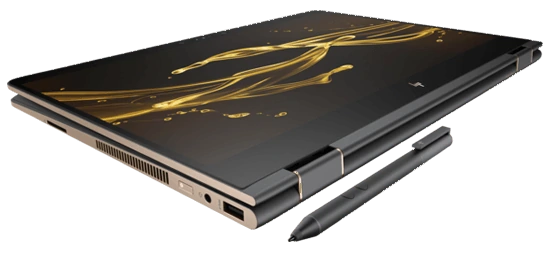 Performance
This laptop features a Core i7-7500U which is a dual core cabling processor running at 2.7GHz that can turbo up to 3.5GHz. These dual core Kaby Lake chips are very strong and efficient, especially at 4k video playback and more.
For the GPU performance boost, you're getting a NVIDIA GeForce 940 MX with 2GB of GDDR5. They could have gone with a 945M for more power, or better yet, a GTX 1050. On low to medium settings on first-person shooter games, you will get anywhere from about 60fps - 120fps. Most games you play will be handled well by this laptop.
The fan setup is very quiet during light to medium usage, but when playing games or doing some CPU intensive usage you'll see the fans measuring at about 48 decibels.
The latest HP Spectre x360 features four top-facing speakers powered by Bang & Olufsen and they sound great. Sound quality is loud and crisp and the mids and highs are tuned just about perfectly.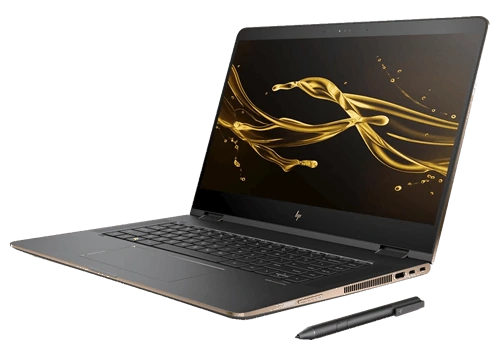 Battery
This laptop also has a 6-cell 79.2 watt-hour battery pack that gives about 6-7 hours of casual usage time and medium screen brightness. That's pretty impressive considering this thing is packing 8 million pixels. A cool feature they added was a fast-charging capability. You can charge this laptop from 0-50% in 30 minutes while in shutdown mode.
You can't go wrong buying this laptop, of course if you have a budget of $1500. It's a well built computer up to date in 2017 in every manner.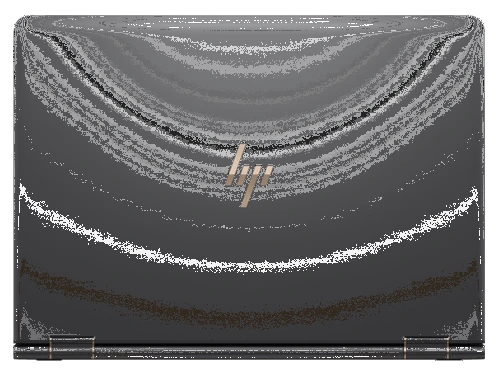 Need to recycle your old hp laptop online? Sell HP Spectre x360 2-in-1 15.6-inch Laptop Intel Core i7 7th Gen. CPU Laptop for to cash!