What brand first comes to mind when you think of high-end laptops? For me, I think Apple, Dell, Lenovo can put some nice things out, and if we're talking about gaming, I'm personally in favor of the Alienware lines which is also produced by Dell. As we know Alienware laptops have some killer lines and designs, so let's take a look at Dell's work type of laptop, the Dell 15" 5578 convertible laptops.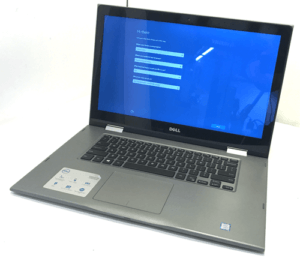 Upon first look nothing really stands out in terms of design, it has a pretty boring look to it. It is a 15-inch laptop and that alone is nice for regular use of it. But as a convertible laptop that weighs 6.2-pounds. There just doesn't seem to be a logical reason to have such a large "tablet" that also weighs so much. As far as being a 2-in-1 laptop, in my opinion, it fails.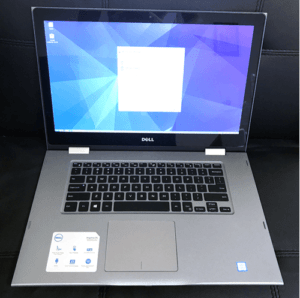 Performance
The Inspiron is packed up with an Intel Core i5-7200U processor with 8GB of RAM and a 256GB SATA SSD and also an Intel HD 620 graphics card, and due to its size, there should be a lot of room available to get some really nice hardware in it. It aims to be an ultrabook with top-notch efficiency, and it is quite efficient. You do get about 6-6.5-hours of battery life in it, but for this weight, you'd expect more battery time. They only put a 52-watt hour pack in it, which seems a bit silly given all of its real estates inside the machine that should have been available.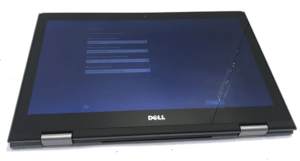 Display
That being said, there is nothing too bad about this laptop. The screen is ok. It's a full HD 1920 x 1080p touch screen IPS display with a brightness claimed to be at 253 nits which sound good. When looking at its color factor it looks fine for the colors that are present, but at the same time, it has a tendency to look a bit washed-out. It just kind of loses that punch that other laptops have. As far as the color gamut is concerned the sRGB measures 62%. This is considerably well under 100% and with a full HD IPS device you may expect better, but it isn't.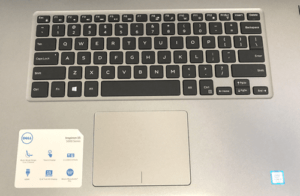 Keyboard and Trackpad
The keyboard is decent. It feels like all of the other Dell laptops we've discussed. Aa chiclet key system has a good amount of feedback. And it doesn't feel too mushy with nice travel. It has today's normal backlit keys which have become a basic staple these days. Overall, it's a nice keyboard that's spaced well. The trackpad is average for today's market as well. It performs the two-finger scrolling and multi-gestures fairly accurately. There's not a whole lot to say about it other than it works as expected.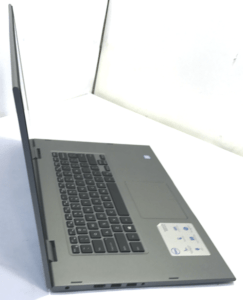 Interfaces
Your I/O options are about average too. There's not a lot to write home about but it does have it has a couple USBs on the left side as well as an HDMI port, headphones, and power port. On the right side, it has another USB port and the SD card reader. I might add it's a slow reader at only 25Mb/s.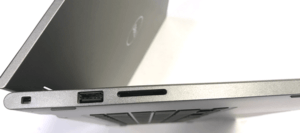 Towards the front of the right side you have the volume up and down rocker. And the power button right up close to the very front which still annoys me to this day. It's by far the worst location for a power button. I'm constantly touching it and sleeping the laptop or even or fully turning it off on accident. I have written about other Dells with the same problem and I really wish they'd address this matter and get this power button moved.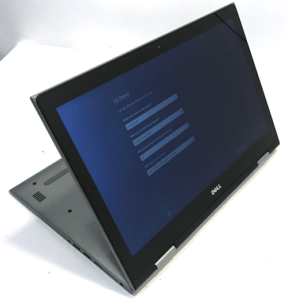 Pricing
Pricing was set at about $950US which is quite interesting for a laptop that you're probably only going to use in a work and/or office environment. For an office, it'd work fine due to its 256GB SSD that reads and writes at 502.8MB/s and 28.9MB/s respectively. Plus, it has enough RAM for most office applications.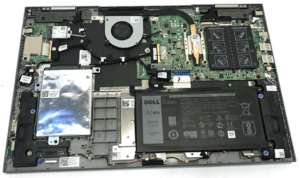 It handles most entry-level creation app like photo editing and video editing. However, if you are thinking of picking up a 15-inch ultrabook for something like school or you have a traveling job, I wouldn't recommend this device simply due to its size. It's not something you can just throw in your bag and go, especially if that bag is filled with other books and study/work materials.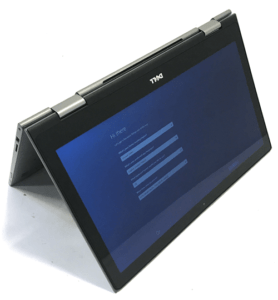 Conclusion
It's definitely not a horrible device. But it's much too heavy and cumbersome to be a tablet. It does have a sizable display for presentations and such, but I wouldn't get it just for that. For the price and functionality, I'd stick with the Dell Inspiron 13 7000 series where you get better portability and a more user-friendly machine with roughly the same specs that cost less.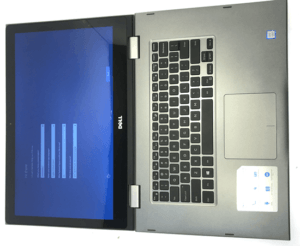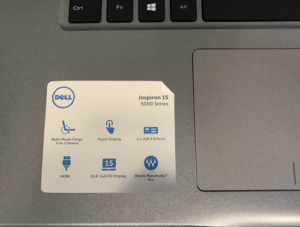 Description
What's included:
Dell Inspiron 15 5578 Ultrabook Convertible 2-in-1 Laptop
Intel Core i7 7500U 2.7GHz Processor
8GB DDR3 Memory
1TB Hard Drive
Integrated Wi-Fi
15.6" LED-Backlit LCD Touchscreen Display
Windows 10 Home with Genuine license and recovery media
Genuine Dell Laptop Charger
Dell Inspiron 15 5578 is a convertible 2 in 1 laptop that allows you to switch between four different modes: tent mode, stand mode, laptop mode and the tablet mode. It is a powerful laptop that runs Windows 10 Home OS and is powered by latest 7th generation Intel Core i5 7200U processor clocked at a speed of up to 3.1 GHz coupled with 8GB DDR4 RAM. It features a 15.6 inch Full HD IPS Trulife LED Backlit Touch Display with a screen resolution of 1920 x 1080 pixels, which provides for an enriching gaming, surfing and video watching experience. It comes with Intel HD Graphis 620 Graphics processor and on the memory front supports 1 TB Hard drive at 5400 rpm. The above features ensure that you breeze through all your tasks throughout the day.
DATE: 09-06-2017