Lenovo Yoga Book 2-in-1 Laptop Hybrid
Sep 21, 2017
Taking a look at the new products on the market today you are certainly not at a loss for things to buy. You can get a budget school notebook or an extensive gaming setup that can run you thousands. Today we will introduce to you the Lenovo Yoga Book.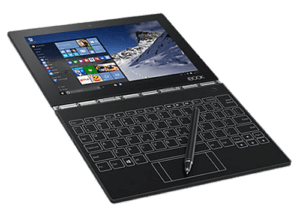 Luckily for you, this Yoga Book starts at $500, and that's the Android version. For an extra $50 more, you can get the Windows operating system. They are both the same in terms of their hardware, the only difference is one's running Android.
The build quality really is top-notch. It feels very similar to the likes of the Lenovo Yoga 900 which could run you up to close to $1,000 USD. It has the same watchband hinge, good materials, not much flex from the chassis, it's just overall well built.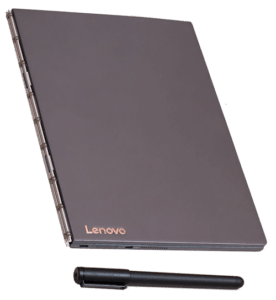 The ports, however, are limited, but that is to be expected with a notebook of this size. You get a micro USB, micro-HDMI, and also a microSD card reader.
The internal storage is only 64GB. You will have to utilize microSD cards if you want to store more stuff locally.
The small speakers located on the sides of the unit are amazingly loud and clear. That's a huge upgrade from the prototype version that was out some while ago at the electronics convention. This makes the Yoga Book an excellent media consumption device.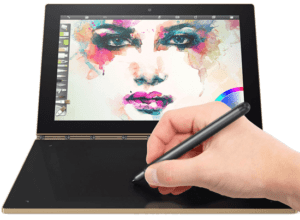 The display is 10.1-inches and runs 1920 x 1200p. It's reasonably bright at 320 nits. It has a pretty accurate color gamut with an sRGB rating at 97% and Adobe RGB at 76%.
The Book also comes with a stylus, but it isn't used on the screen itself. It is a 2-in-1 pen/stylus. You can change the tip from the plastic tipped stylus or it can be a fully functional regular ink pen. It comes with refills, but you can get more. As mentioned, it does not work on the screen but it interacts with the Creative Pad, which is where the keyboard usually is.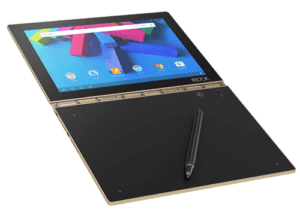 The Creative Pad is clearly the main function of this device. When it was first announced it is definitely what got people interested in this product, to begin with. It is a complete glass surface that functions as a full-size keyboard or a Wacom tablet for creative work by hand.

Lenovo has designed this in efforts to keep the device super thin. You can use it as a regular tablet with drawing input for illustrations and artwork. It's really cool and it feels very similar to a Wacom tablet. You also have the option of putting paper directly on top of the Creative Pad and writing on it directly like that as well. However, you can only use the pen provided, you cannot just grab any old pen and get at it. It keeps track of all of your pen strokes for a digital record of anything you write down. The downside to this feature is, unless you write regularly or do graphic illustrations frequently, aside from the brand new fun factor, you probably would find yourself not actually used very much in the real world.

Keyboard function here is a bit strange. Since it isn't a real keyboard and only gives you haptic feedback it can be kind of difficult to get used to. The keyboard lights up from the glass surface and obviously, there are no real keys. Since there are no real keys you don't get the individual key feeling that you get with a regular keyboard and such it makes it difficult to get used to. Over time though it does learn your typing style. Physical feedback is way more important than you may realize.
The trackpad also isn't the best of the best. There is a lot of friction on it because it's not smooth and it only has a tap function for clicking. For many, like me, that's not much of a problem, but some people do like the physical button click.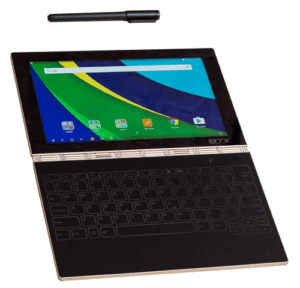 Currently, the Android version uses Marshmallow 6.0.1. The Android version gives a better touch experience than the Windows 10 version. Also, the trackpad in combination with the Windows version isn't the best, it just seems to run overall better with Android.
The 4GB of RAM Atom processor is more than sufficient. Being so thin it doesn't create much heat so there is no need for a fan. Since it has an Atom processor doesn't get thinking that you can do any real labor-intensive photo editing, but it definitely handles light and moderate tasks without a problem.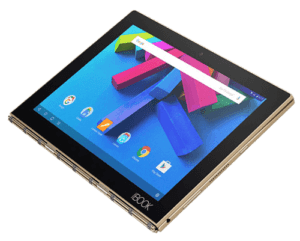 Battery life is great with a consistent 9 hours yielded during regular use. That's basically a full day of life. No need to carry the charger with you in most cases.
This device isn't going to be the best laptop if you're a student that needs to type a lot or anyone that needs to type a lot just because the keyboard is just so drastically different to get used to. However, if you are a media consuming type of person or someone that relies on art illustrations then this is more your style. This device won't be for everyone, but it is a great first generation of this type of device out by Lenovo.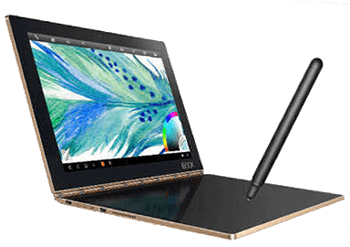 Deisgn:
Dual screen design: LCD and E Ink panels
Windows 10 only (no Android this time)
Double-knock to open feature
Integrated fingerprint reader
2x USB-C (one for charging)
SIM tray for 4G/LTE mobile
Dolby Atmos integration
9.9mm thick chassis