Huawei Matebook Tablet
Oct 12, 2017
Huawei has been making devices for years now but for the most part, they do not get much attention. Today, I am going to shed some light on the Huawei Matebook. This is a 12-inch Windows tablet, it costs $700 USD, it has 2-in-1 capabilities, and it has a very clean design. The unit I will review is the base model. It has a SkyLake Core M3, HD515 integrated graphics card, 4GB of RAM, 128GB of storage. This is the same loadout as the base models of the Surface Pro 4 and the Samsung Tab Pro S.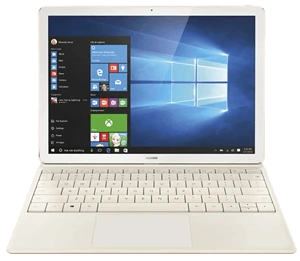 When you open the box it comes in, you get the Matebook itself, a 24-watt adapter, a double male USB-C cable and then some components to adapt to other USB devices.
The build quality is really nice. Recent Huawei devices have had excellent build quality and this one is no different. It has an aluminum body, chamfered edges, the exterior finish feels very similar to an iPad. It has the same silky smooth texture. The device has a little bit more flex, but it isn't bothersome. In terms of how it feels when you use it, this is a very comfortable tablet to hold. It has rounded corners, rounded edges, and it's not too heavy.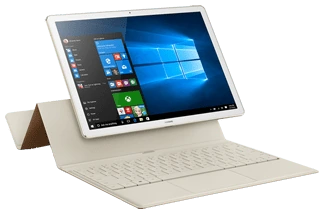 Looking around the edges, we have a volume rockThunderbolt 3, so there are no GPU connections. You can charge the device through this port as well as connect drives and peripherals. There is also an optional Matedock by Huawei that connects to the port. It runs about $90 and has a USB-C pass-through, so you can charge it while it's docked. It also has a couple USB-As, an Ethernet, HDMI out, VGA out and it fits into the carrying case magnetically. If you are using the Matebook for work or university, a dock like this can be super useful. The volume rocker actually has a fingerprint sensor in the middle. It is nice and fast, accurate and works with Windows Hello for fast log-ins.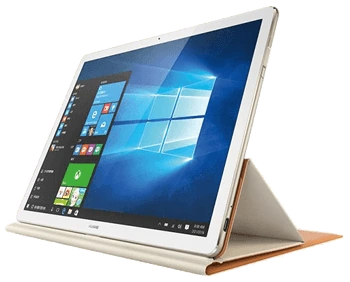 The display is a 12-inch IPS QHD 2560x1440p panel and it's pretty dang decent. If you turn off the automatic controls, you can get up to 400 nits. Due to its glossy screen, it is not awesome for viewing outside, but inside, it's great. As for the viewing angles, it's great, and so is the color gamut. The bezels are pretty thin at only 10 millimeters, and overall it has a nice quality look about it.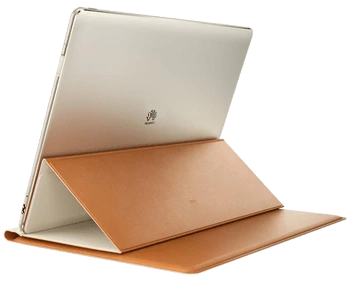 The speakers on the top edge of the tablet sound OK. They produce a fair amount of volume, maybe more so than you'd think given their tiny size, but as far as clarity goes, they just aren't that clear at higher volumes. They are maybe comparable to the Surface Pro 4 speakers.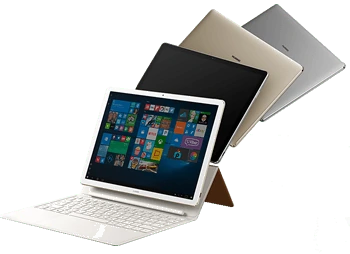 The webcam on the top is 5 megapixels and it's pretty good. One thing you may notice is that there is no rear-facing camera on this device. For the most part, tablets shouldn't be used for photography, not only do you look lame holding up a magazine size camera, they usually don't turn out decent photos. By not having a camera on the back keeps the design nice and smooth; however, if you use your tablet for Skyping and you want to show the person you are talking to the surrounding area for whatever reason, just keep in mind that you will have to turn the entire device around and use the front-facing camera to capture the moment.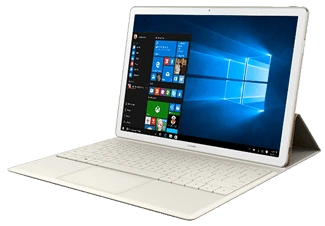 Accessories are key to this device. There is an optional $60 Matepen that charges with the micro USB, It has 2,048 levels of pressure sensitivity and it also has a laser pointer for presentations and whatnot.
The portfolio keyboard costs $130 and it connects automatically using the pogo pins. The keyboard is backlit and has 1.5mm of travel. It's a fairly comfortable keyboard that you will get used to quickly. The cover to the portfolio keyboard has folding flaps, and since the structural support is dependent on the flaps, it's not sturdy to use on your lap at all. however, if you are using it on a nice flat, hard surface like a desk then it's completely fine.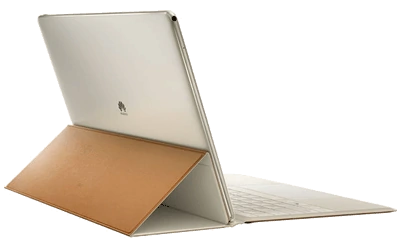 The trackpad is big for this type of device, so if you're coming from a laptop, it is an easy transition. The glass surface has a nice texture, tracking is accurate and good, the button mechanism is average, clicking might at times feel unresponsive.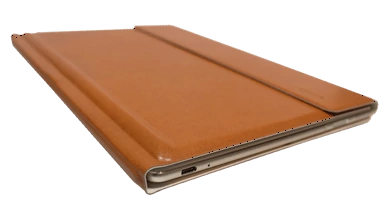 Drive speeds are OK, but the overall performance is good. it reads at 512MB/s and writes at 193MB/s. If you are doing light tasks like emailing, web browsing, or word processing, then it's more than enough power to get you through. If you have a lot of browser tabs open you may feel a bit slower with only 4GB of RAM. For the record, gaming pretty much sucks.
Battery life is claimed at 9 hours, but it constantly ran short of that mark by about 3-4 hours and even with the screen set at 75%. Since it supports quick charging you can get it back full in about 2-3 hours. Definitely, for a tablet, the battery life is less than average.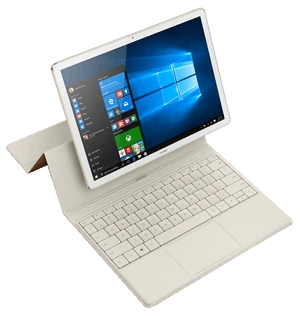 If you have an old used Huawei Matebook Tablet
Sell Huawei Matebook Tablet
online.