This is the Aero 15 from Gigabyte, you may not be totally familiar with the Gigabyte line, but we have reviewed the Saber 15 gaming laptop back in May. But now we're talking about the Aero. This is their new all-purpose thin and powerful laptop. We see a lot of different computers come our way and once in awhile, we get something that completely exceeds our expectations. This is one of them.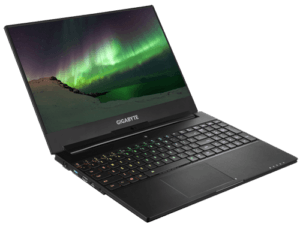 It has a plastic build, it feels very similar to the Aero 14 materials. It's a little bigger but the idea is the same, the top surface comes in various colors. it weighs in at 4.62-pounds and is only .78-inches thick when closed. The Gigabyte logo lights up like the Apple logo, some people like lit logos, others don't. I happen to like lit logos. For a laptop that is predominately made of plastic, it still has a quality feel to it.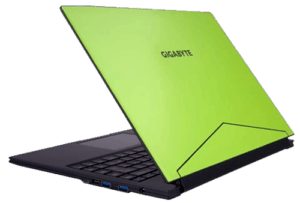 It starts at $1,900 USD, which is pretty expensive for a laptop, and some of you are going to say that you can get a laptop with a 1060 graphics card for $1,000 - $1,200. The thing is they aren't going to have the features that this laptop does. When you build something this thin and light, you're going to have to pay a premium because the manufacturer has to get custom PCB, custom thermal solutions to cool something this thin and this powerful and keep it in a package this small.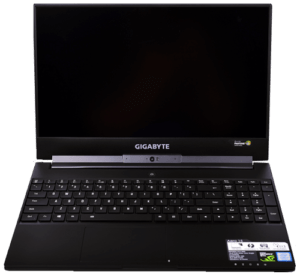 The port selection is above average for a device like this. You get Ethernet, HDMI 2, DP 1.3, an audio jack, three USB 3.0s, a Thunderbolt 3 port, and an SD card reader. The Thunderbolt is a four lane PCIe, so that's a good thing too.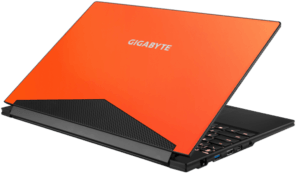 It's pretty easy to open up and when you are in the machine you -have access to the 2 RAM slots. You can load up to 32GB of DDR4. The best part is that there are two m.2 storage bays. Somehow, over the course of time, it became the standard to have just one stick of storage for these thin and light performance machines. But this has two, and we like that. The included drive uses a slower SATA interface but it does support NVMe Drive, so you could just use the included drive as a storage drive.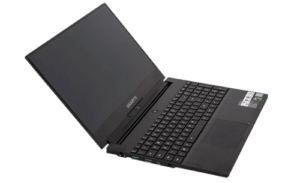 The battery is 94-watt hours. The life is pretty good with the screen at 250 nits and should yield about 7 hours of normal use and about an hour for gaming use. The charger also has a bonus USB port in the brick.
The keyboard has individual RGB lighting which is always fun to play with and it can also be really useful. You can match the colors to the shortcuts of apps. The layout is good, nicely spaced out, but the keys themselves are a little stiff. It's hard to describe this, but it needs more pressure than normal to register the keystroke. Once you get used to it, it's just fine.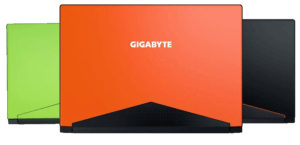 The trackpad uses an Eline drivers, and to be honest, we aren't a huge fan of Eline drivers, but it feels much better than the Aero 14 by Gigabyte. it could be from updated drivers or potentially update hardware. The tracking isn't perfect, but it definitely has improved.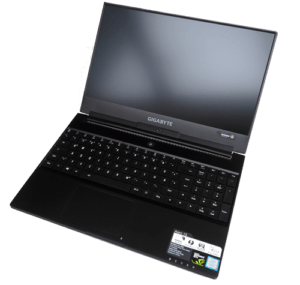 The screen is awesome. It's the headlining feature of the laptop. It has a super thin bezel, matte finish, and the panel has a great color gamut and accuracy. It's a 1080p non-touch screen. It has this X-rite Pantone certification and out of the box, the colors are spot-on. It could be a little brighter and you can see some mild ghosting. The laptop is geared towards productivity and content creators, so brighter is always good. There is supposed to be a 4k option down the line. But this 1080p panel looks really good as it is. The webcam is down at the bottom because of the super thin bezels, so you get that bottom-up angle.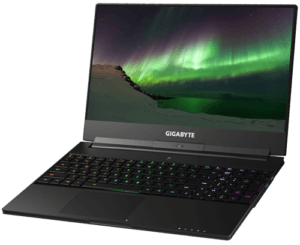 Let's talk performance. Due to being so thin, we figured it would have some cooling issues, especially with a GTX 1060 stuffed in there. But it's cooled well and performance is strong. It has really extensive fan control through their software. There are also options on how you run the fans. You can manually adjust them or just use an auto-mode.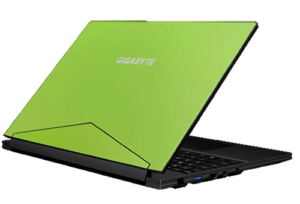 Gameplay is really nice on this laptop. It's a Kaby Lake i7-7700HQ , GTX 1060 in an ultra portable laptop, it's awesome. If you're playing at 1080p you'll comfortably break 100fps on first person shooter games. The hardware is great for games.
With a color accurate display and 2 drive bays, the Aero 15 is clearly made for creative professionals as well. This laptop will do very well with Photoshop and Illustrator workflows. In regards to video editing, this is one of my favorite laptops for edits. The 1080p panel is very good for performance, but I'd love to see how the 4k performs as well.

The speakers are located underneath like the Aero 14, and they sound really similar. Good clarity, good volume, but as per the norm, not too much bass.
There is a lot to like about this laptop: the performance and screen are great, the battery life at 7 hours is awesome, and the 2 drive bays. It really is an all-around fantastic machine that is thin, light, and ultra portable. Is it the best in this market? That's hard to say because this is a real good machine, but the gaming Razer Blade and Dell XPS 15 both have better build quality, but for the price the Aero as better all-around performance.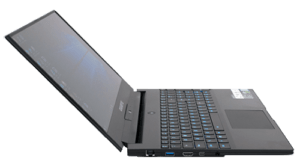 Sell Gigabyte Aero 15 GTX 1060 Intel Core i7 7th gen Laptop
Here is the Gigabyte Aero 15 configuration sent to TechRadar for review:
CPU: 2.2GHz Intel Core i7-8750H (hecta-core, up to 4.1GHz)
Graphics: Nvidia GeForce GXT 1060 (6GB GDDR5 RAM)
RAM: 16GB DDR4 (2,666MHz)
Screen: 15.6-inch FHD (1920 x 1080) 144Hz LED display (Pantone calibrated), OR 15.6-inch UHD (3840 x 2160) G-Sync Adobe RGB 100%
Storage: 512GB Crucial SATA 3 SSD or 512GB PCIe NVMe Gen 3x4 SSD
Ports: 1 x USB-C (Thunderbolt 3), 2 x USB 3.1 (Gen 1), USB 3.1 (Gen 2), HDMI 2.0, Mini DisplayPort 1.4, UHS-II 500MB/s SD card reader, Ethernet port, 3.5mm combo audio/mic jack
Connectivity: 802.11ac Wi-Fi, Bluetooth 4.2
Operating system: Windows 10 or Pro 64-Bit
Camera: HD (1080p) webcam
Weight: 4.4 pounds (2kg)
Size: 14 x 9.8 x 0.7 inches (35.6 x 25 x 1.8 cm W x D x H)
DATE: 08-09-2017