Let's get to know each other.
While you were setting your room straight you found old ratty box re-rolled with a sticky tape and discovered that it was your broken laptop. It was lying there for plenty off time, unnecessary and forgotten and covered with the dust. And now you have no idea what to do with it. It doesn't power on because the coffee was spilt on it, or it fell down from you table, or it was overheated. Workers from the Product Support Service said that there was no chance to bring it to live and recommended you to utilize it. You, being practical or even sentimental, decided to leave it at home, because once it would be of service to you or someone. That special time has come right now.
We welcome you here and are glad that you have visited our online store. Your non-working laptop comes useful to us. Our company is specified on buying old, used and out-of-use, clapped-out laptops and other gadgets. SellLaptopBack is one of the best online resources with highest quotes for anyone who wants to sell their non working devices quickly online. We also offer you payment for the packaging and shipping fees. We work on developing special services for our customers. As well as we need to stay "green" to give a new life-cycle to the old e-devices, so our business is built on these hard rules. And we pay decent cash money for every device  you ready to sell unless is very old and needs to be recycled.
You should understand that every thing around us has a price, even if it is broken or destroyed. When you pay for something you give money not only for special options, but also for material, time, service and work done to create this thing. If we talk about computer, you see that it consist of many details and devices that cost a lot. It is not only money, but also natural resources. 
Most of the time it's not cost effective to fix you laptop, if it broken. If it's old and barely working then there is no point of holding on to it.
So, if your laptop is already non functional, it makes sense to sell it or recycle it. All stuff that was made yet should work and this makes great sense. For example, if you sell non working laptop you:
give a chance to someone, who is searching for this thing finally to find it. When you sell your home stuff you become a part of worldwide market and expand the assortment.

save time for workers, who need to make the new model. It is much easier and better to repair laptop than to set up a new computer.

save natural resources. If something is recycling it can be used again and again. Production of such materials as metal and plastic costs money, time, and even our health and future.

protect our environment. Could you imagine that if you don't recycle your laptop such poison wastes as lead, mercury, and cadmium will go to soil and damage subsoil water. Only one AA battery poisoned 400 liters of water and 20 square kilometers of soil. What damage would be after even one laptop?
You see that if you sell a box with a scratched broken laptop you make a lot good things. And as the result you receive cash for this.
Firstly use the system of online transactions. It is fast and easy and understandable even to a three years-old child. Let's see how it works and what you should to do. The information you need is a brand you want to trade and its model. You can find it in the optional field. Then, please, give us some characteristic features – in what cosmetic condition it is and put marks in the field "more details". If your laptop has some breakages there you can identify them and answer does your laptop power on or not, has it no or bad optical drive CD/DVD/B-Ray, a defective or broken screen, bad or no SSD/HDD drive, has it charger or not, if its battery is warn/defective/missing and has its keyboard missing pieces. After you fill the blank we'll give you an instant quote for your laptop. Then, after you will be redirect to the storage, fill out you name, your address and contact number and e-mail. We hope you'll be pleased with our service while we inspect our future purchase.
Something you should know about shipping, shipping payment and delivery.
Our company cooperates with USPS mail system. It is an independent agency of the United States federal government. USPS provides postal service in the United States. As we said before we offer totally free shipping system to our customers. All costs you have spared on shipping box, if you have it, also will be returned to you. We will send you protective box and a pre-paid label for your broken laptop. Then place your device inside according to the following the instructions:
Make sure that your box is in excellent condition with no punctures, tears, rips, or corner damage, and that all flaps are intact. Please, remove any labels and all other markings from the box.

Make sure that you wrap each item separately. It is very important. All laptop equipment needs separation from each other, and from the corners, sides, top, and bottom of the box. Then fill the box with such material as air-encapsulated plastic.

Close Your Container Securely. Closing of your container is also important. It provides safety and security to your device inside. Use a strong tape about two inches (5.08 cm) or more in width to close a box securely.

Do not forget to stick pre-paid label onto your shipment. Do it carefully.
Follow this simple instructions and your laptop will be delivered to us without any damage.
Our payment for your laptop and how you get it.
The payment is sent the next business after we receive your laptop and inspect if it correspond the description you provided earlier. If everything is satisfied you will get the exact payment as we told before by USPS mail, via PayPal or Google Wallet. The payment comes as soon as possible.
Finally we have found what to do with old laptop.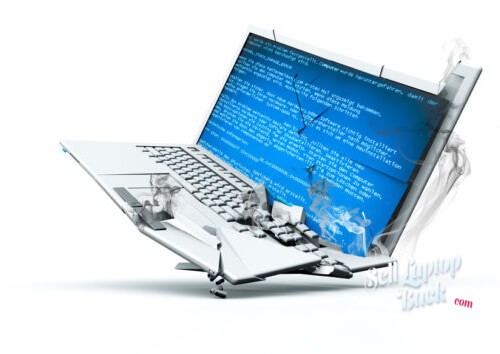 Our trip has started since we found old box covered with dust and transformed to protecting our environment and even getting some cash for old scratched non working laptop.
Sometimes our life gives us presents and surprises, we should only use them as well as all other opportunities we receive. May be in future your old laptop would be your good memorizing about that every thing has its price and everything should work.
Hope, that our buyback service would quench all your future wills and wants. We truly believe that together we are the power and we will be very happy if you become our customer.
Our top goal is provide the best laptop recycling service in the Northern American continent, where you can sell non working laptop for top cash online, with fast stream free shipping. We process most of the quote with in 1 business days.